Sept 16, 2018 The Yellow Pine Times – Valley County, Idaho
Community Calendar:
May 10 Burn Permits required
May 15 Firewood Season Starts – permits at The Corner
August 6 Ice Hole Campground Closed for the season
September 22 at 10am Community Hall YPFD Budget Hearing
September 22 Celebration of Life for Chris Petersen at 2pm, YP Tavern
September 29 Wildland Firefighter Foundation Fund Raiser and Yellow Pine Community BBQ
(details below)
———-
Village News:
Yellow Pine Transfer Station
The Yellow Pine and Warm Lake Transfer sites are seeing other material deposited into the Woody Debris pile which violates our agreement with the Forest Service to have the Woody Debris allowed to be there. The Valley County Commission is requesting assistance from the folks in Yellow Pine to help police the Yellow Pine Transfer site. Valley County and/or Lakeshore employees are working to clean up the site this fall. To avoid losing the ability to have the Transfer Site be a place for woody debris to be allowed to be used. The Forest Service will continue to burn the debris but only if the other material is removed from the debris pile.
Other items being left on site is also not appreciated as this site is designed to just have Household Waste in the bins. Furniture and appliances left require additional costs and are not in our program. However with working with others we continue to handle the issues but maybe better education would help.
Gordon Cruickshank, Valley County Commissioner

— — — —
Chris Petersen Celebration September 22
The Celebration of Chris Petersen's life in Yellow Pine is set for 9/22/18 at 2pm at the YP Tavern. We will provide the main course., side dishes or desserts are welcome. Thank you. – ST
— — — —
Wildland Firefighter Foundation Fund Raiser and Yellow Pine Community BBQ September 29
Midas Gold Idaho and The Corner are proud to sponsor the 5EV Memorial Run.
This 3.6 mile trail run is a fund raiser for the 5EV Memorial Trail Fund and Wildland Firefighter Foundation. Donations are greatly appreciated. The race starts at 10:00 am at the Williams Peak Trailhead on the East Fork Rd. and ends at the summit of the trail; a 3021 ft. elevation change.
A Community BBQ will be held after the race at 4:00 pm, at The Corner in Yellow Pine, Idaho. The roasted pig is provided by Midas Gold Inc. with great food by The Corner and the volunteers of the Yellow Pine Community.
Proceeds from this event will be shared 50/50 between the 5EV Memorial Trail Fund and the Wildland Firefighters Foundation.
For additional information or to sign up for the race, contact: Matt Huber Matt @ ypcorner.com 208/633-3325
— — — —
Lost Tablet – Reward
On July 21 one of our crews lost a Samsung tablet on the Profile Road between the switchback below Red Metals mine road and Missouri Creek road. They realized it was missing almost immediately and went back and gridded the road for it, but could not find it. It could have bounced into the roadside brush, or been picked up off the road by someone traveling from Big Creek or Yellow Pine or vice versa.
This tablet has a summers worth of field data and we would sure like to have it back. Would you please spread the word that Ranger Botello will pay a handsome reward of cheeseburger, fries, pop and ice cream for its safe return!?
Contact: Anthony B. Botello, District Ranger, p: 208-634-0601, c: 208-634-9286
— — — —
Ice Hole Campground
The Cascade Ranger District [has] temporarily closed Ice Hole Campground for reconstruction beginning Monday, Aug. 6, 2018.
The Campground will remain closed for the remainder of the 2018 season. Project funding was provided by local Tribes and a State RV Grant.
Forest Service crews and contractors will repair existing resource damage, enabling visitors to have an improved recreational experience in the future.
Ice Hole Update
Progress made with renovation and remodel of Cascade Ranger District – Ice Hole Campground!
Thanks for the photo shares from Boise NF employees Marie Willis and Danelle Highfill.
link to FB photo gallery:

— — — —
Possible Problem Bear
A report Sunday (Aug 19) of a "BIG bear" hanging out in the upper village. Be "Bear Aware" – Remember to secure your trash and pet food.
Update Friday (Aug 24) "it has been back but still not getting into anything."
Video Link Bear Visitor Aug 20, 2018
Sept 16 – no recent reports of bear activity.
— — — —
Pests
Yellow Jackets are late this year, but really mean. Long legged wasps are not as numerous, but around. Mosquito population dropped during the hot dry summer. Lots of gnats out now. Numerous grasshoppers clacking about. Colombian ground squirrels have gone into hibernation. Chipmunks had a population boom this summer. Pine squirrels are not as numerous as in past years. Bears have been roaming the Abstein orchard looking for apples.
— — — —
Yellow Pine Transfer Station
Please do not dump appliances or tires at our transfer station, it is for household trash only and must be placed in the dumpsters.
"Bring it, Don't Burn it." There is a burn pile for woody debris only. Please don't put trash, construction debris or cardboard in the burn pile.
———-
Local Events:
Welch Labor Day Golf Tournament Sept. 1st
(No results by press time Sunday 9-16.)
———-
Local Groups:
YPWUA News:
July 24th Yellow Pine water update:
It is good to go back to the even/odd watering schedule. Even/odd means if your address is 315 Yellow Pine Avenue, you can water on odd days such as the 1st, 3rd, 5th etc. And if your address is 316, water in even numbered days. The only request is that watering be done between 6am and 1pm. Also please limit to one sprinkler at a time.
Also it is requested that no lawn watering be done August 1st through the 6th to be able to withstand the draw from Harmonica.
Our second sand filter will be on line soon and give us more capacity. Thank you everyone for your patience during the high water demand time. – SH
—
There was a YPWUA Annual Shareholder's meeting Saturday July 7, no minutes yet.
— — — —
VYPA News:
The last 2018 meeting of the VYPA was September 8, 2pm, at the Community Hall, minutes pending approval.
—
Midas Gold and Yellow Pine
August 28, 2018
Attached is the Community Partnership Agreement the Village of Yellow Pine signed with Midas Gold.
link to: 2018 Community Partnership Agreement.pdf
— — — —
YPFD News:
September Meeting Date Changed:
One of our Fire Commissioners will not be able to make the scheduled YPFD 2018-19 budget meeting on the 8th.
The YPFD Budget Meeting will be rescheduled for September 22, 2008, 10:00 AM at the Yellow Pine Community Hall
There was a YPFD Fire Commissioner Meeting June 9, no minutes yet.
There was a YPFD Fire Commissioner Meeting August 6, no minutes yet.
—
Yellow Pine Fire District Budget for Fiscal Year 2018 – 2019
Notice has been given that the Yellow Pine Fire District will hold a public hearing for consideration of the proposed budget, including the estimated revenue for the fiscal year, October 1, 2018 to September 20, 2019, pursuant to County Law chapter 14, Section 31-1419A. Said hearing will be held at the Yellow Pine Community Hall in Yellow Pine, Idaho on Saturday September 08, 2018, at 10:00 AM. At said hearing all interested persons may appear and show cause, if any they have, why said proposal budget should be adopted.
Proposed Expenditures:
The following budget is an estimate set forth in said budget of the total proposed expenditures and accruing indebtedness of the Yellow Pine Fire District for the Fiscal year 2018 – 2019.
Yellow Pine Fire District Budget for 2018 – 2019:
* Fire Fighting/Rescue: $8,132
* Wages: $0
* Advertising: $2,000
* Repairs and Maintenance: $4,000
* Utilities (Fixed Cost*) $4,000
Total:
Fixed: $4,000
Includes Insurance $2,500
Total $18,132
I, Dan Stiff, Chair Yellow Pine Fire Commissioner, Yellow Pine, Idaho, do hereby certify that the above is a true and correct statement of the proposed expenditures for the fiscal year 2018 – 2019. All have been tentatively approved and entered into district records. I further certify Yellow Pine Fire District did give notice for said hearing in two (2) conspicuous places in the fire district, by order of the commissioners. Residents are invited to attend the budget hearing on September 08, 2018, at 10:00 AM at the Yellow Pine Community Hall, and have the right to approve written or oral comments concerning the fire district budget. A copy of the proposed fire district budget in detail is available at 320 Westside Ave, Yellow Pine, Idaho, 83677.
Dated this 15th day of August 2018
—
Bring it, Don't Burn it
For us in Yellow Pine, Jake Strohmeyer, Dist. Ranger with the Boise NF said we can use the area at our transfer station for yard debris and the FS will burn it once a year. Please no furniture, mattresses, construction debris, metal objects, tires or personnel junk. Please only woody yard debris. When using the pile please be mindful of where you place the debris as it should be contained to a manageable burnable area and kept as clean as possible. – JF
—
Burn Permits Needed After May 10
A reminder that May 10 is beginning of fire season where burning permits for open burning are required throughout most Fire Districts. Since the YPFD doesn't issue actual "Burn Permits" per say, notification of a large pile burn would be appreciated. The notification makes the fire officials aware of those who have a planned burn. Seeing smoke can easily raise concerns. When neighbors call in seeing smoke, we can reduce their anxiety by knowing that there was a notification by a property owner. This elevates the response to smoke investigations.
Contact Fire Chief Jeff at 633-1010 or email j4star1911 @ gmail.com
—
Yellow Pine Fire Protection District Updates:
Fire Department Training on Sunday's at 11:00 all are welcome
Special Use Permit for Fire Station and Helispot:
The Boise National Forest has granted a "Special Use Permit" to the Yellow Pine Fire Protection District for the Fire Station lot and the Helispot. The Helispot is a new addition and the Fire Station lot was a renewal. This permit will expire 12/31/2037 (20 years) and will need to be rewed again at that time. Thanks to Jake Strohmeyer, District Ranger and Chris (Kit) Woras, Special Use Permit Administrator of the Boise Forest for spending a lot of time and correspondence to get this permit completed.
Helispot / Life Flight:
A lot of progress has been made on the new Helipad near the crossroads.
Anyone needing a Smoke/CO detector or fire extinguisher please let Jeff, Cecil or Dan know.
– Fire Chief Jeff
There are YPFD T-shirts, as well as YPFD patches and stickers for sale at the Tavern now.
——–
Biz Listings:
Yellow Pine Lodge
Open for summer (208) 633-3377
— — — —
Yellow Pine Tavern 633-2233
Fall Hours: 8am to close 7 days a week.
Daily Menu: full Breakfast served also Burgers and Pizza for Afternoon and Evening. Good selection of Beer and Wine also sold by 6 and 12 pack. Fuel available 92 Octane. Wi Fi, Ice.
— — — —
The Corner 633-3325
Our hours for this week: Monday-Friday 4pm-8pm, Saturday and Sunday 11am-close
We will also be cooking most of the week for private events so if anyone wants something outside of those hours just call and we can usually accommodate.
The Corner Store is open as well, just call for grocery needs, fresh produce, eggs, meat etc.
— — — —
Local Fuel Suppliers
Amerigas Phone: (208) 634-8181
Ed Staub & Sons Phone: (208) 634-3833
Diamond Fuel & Feed (208) 382-4430
— — — —
Elkhorn Heating & Cooling
(208) 906-4067 Middleton, Idaho, Will service Yellow Pine
— — — —
Follow The Yellow Pine Times on Facebook (updated more often than emails)
———————–
Local Observations:
Monday (Sept 10) overnight low of 36 degrees, clear sky, dry (not much dew) and moderate haze of smoke and dust. One finch, one jay and a female hairy woodpecker visiting. Red flag fire weather warning for this afternoon and evening for dry and gusty winds. High thin clouds coming in before lunch, mostly cloudy and quite breezy by early afternoon and smoky, Gusty and warm afternoon, high of 80 degrees. By evening clear sky, haze of smoke and calmer.
Tuesday (Sept 11) overnight low of 35 degrees, mostly cloudy sky, light dew, variable breeze and light haze of smoke. Female hairy woodpecker calling from the forest, then visited at lunch time. By noon it was mostly clear and getting breezy. Mid-afternoon back to mostly cloudy and getting rather gusty, fairly good air quality, high of 74 degrees. Windy during the afternoon, overcast by sundown and calmer. Dry doe wandering down Pioneer Street at dusk.
Wednesday (Sept 12) overnight low of 34 degrees, overcast and haze of smoke. Power blipped off and on at 850am. One finch stopped by. Partly cloudy before noon, light chilly breezes and light haze of smoke. Around lunch time 3 muffled "booms" off in the distance, sounded like a cannon. Dark clouds and blustery winds mid-afternoon, cool, high of 63 degrees. Two cold looking fluffed up finches visited this afternoon. Mostly cloudy evening, calmer and light haze of smoke. Mama doe with twins and an extra on Pioneer Street after sundown. Driver hardly slowed down for them as they scrambled to find a place to get off the street. Smoke settling in during the night.
Thursday (Sept 13) overnight low of 33 degrees, mostly cloudy, dry (not much dew) and haze of smoke. Heard a robin and a couple of finches, a pine squirrel scolding somewhere in the neighborhood. Cool and cloudy mid-day. A couple of chilly looking fluffed up finches visiting at lunch time. Gusty breezes after 1pm. Sprinkles on and off after 130pm until a little after 2pm, cool and variable breezes, high of 63 degrees. Not enough rain to wet anything, barely made the roof damp. Clouds breaking up and by evening lots of blue sky, better air, slight haze.
Friday (Sept 14) overnight low of 27 degrees, heavy frost, clear sky, haze of smoke (smells like wet campfire.) A couple of fluffed up finches visiting. Streets are dusty, yesterday's rain wasn't enough. Flicker visiting at lunch time. Partly cloudy, light breezes, haze of dust and smoke mid-day. Mostly cloudy mid-afternoon and windy, high of 74 degrees. Local streets are very dusty. Lots of blue dragonflies this year, and quite a few grasshoppers. By sun down partly cloudy, lighter breezes and better air quality. Two robins calling at dark.
Saturday (Sept 15) did not get below freezing last night, no frost (not much dew), mostly cloudy sky, light breeze and haze of smoke. Light traffic kicking up dust. Pine squirrel and a female cassins finch visiting. Dark clouds by lunch time. Windy front with a little rain hit at 240pm, not enough rain to settle the dust, then steady rain after 330pm, high of 69 degrees. By sundown clouds breaking up and lighter breezes. Young deer bouncing around the golf course at dusk. A report that it is "duck-em and dodge-em" traffic on the South Fork road with hunting season open.
Sunday (Sept 16) overnight low of 33 degrees, clear sky, light frost, heavy dew and slight breeze. Very light haze of smoke up high, low level smoke from local wood stoves. A few finches visiting in the morning. Wind kicking up by lunch time. Young jay stopped by for lunch, a few robins in the neighborhood. Clear, sunny, mild temps and quite windy early afternoon, high of 72 degrees. Local streets have dried out and weekend traffic kicking up a lot of dust this afternoon. Clear and calmer toward evening. Bright half moon shining high to the south after sunset. Light haze of smoke and dust in the air.
——————————
Idaho News:
Warren Wagon Road to be closed Mon-Friday next two weeks
Closures will allow installation of culverts for fish passage
By Drew Dodson for the Star-News September 13, 2018
A section of Warren Wagon Road north of McCall will be closed Monday through Friday for the next two weeks as part of a project to rebuild the road.
The road will be closed from 8 a.m. Monday to 5 p.m. Friday, Sept. 21, starting at Sharlie Lane about three miles north of McCall, to East Side Drive.
The same closure hours will be in effect for Sept. 24-28, but the southern closure will begin at Simplot Point, which is about four miles north of McCall.
The extended closure is needed while two large culverts are installed at Wagon Bay Creek and Sylvan Creek, said Cody Brown, a spokesperson for M.A. DeAtley Construction of Clarkston, Wash., the general contractor for the project.
The road will be closed off entirely to through traffic, but an access will be available for local residents as well as emergency vehicles, Brown said.
continued:
— — — — — — — — — —
Toxic blue-green algae found in Lake Cascade
DEQ advises humans, animals to stay out of water
By Max Silverson for The Star-News September 13, 2018
A widespread bloom of toxic blue-green algae has been detected throughout Lake Cascade, prompting officials to issue a warning against human and animal contact.
"The algae is spread throughout a majority of the reservoir," Idaho Department of Environmental Quality Watershed Coordinator Chase Cusack said.
Cusack took water samples at the Van Wyck, Crown Point, and Sugarloaf areas and found the algae at all sites extending to lake banks."
"Toxin levels vary throughout the reservoir," Cusack said.
Symptoms brought on by exposure to the toxic bacteria include nausea, vomiting, diarrhea, difficulty breathing, skin irritation, allergic responses, liver damage, or neurotoxic reactions such as tingling fingers and toes, an advisory from the Central District Health Department and DEQ said.
Swimming, wading or other activities with full body contact of water should be avoided, the advisory said.
Pets and livestock are vulnerable to cyanobacteria and their toxins and should stay out of water where blooms are visible. Pets and livestock can be exposed to the toxins through drinking, swimming, or self-grooming by licking their wet coat or paws, the advisory said.
continued:
— — — — — — — — — —
Prepared for the Worst: Drill gives responders experience with mass casualty disaster
By Max Silverson for The Star-News September 13, 2018
Covered in fake blood and sporting gruesome mock wounds, volunteers from McCall based Scout troop 246 gave their best theatrical performances, screaming and crying as local emergency services swarmed the scene in a mass casualty practice drill on Saturday.
The drill, which took place in the parking lot of the Donnelly Fire Department, was designed to stress local emergency services to the limit of their resources and capacity by simulating a car purposefully driving through a Scout troop during a parade.
In total there were 12 victims in the simulation and over 46 personnel from the combined responding agencies.
continued:
— — — — — — — — — —
Cascade among 29 'underperforming' schools in Idaho
State to step in to help students in grades 6-8
By Max Silverson for The Star-News September 13, 2018
The Cascade School District is one of 29 in Idaho that have been classified as "underperforming" and will receive state funding to help improve student performance.
The state will give Cascade schools about $73,000 each year for the next three years to help bring up testing scores, Cascade Superintendent Jeff Blaser said.
Cascade was named to the list due to the school's low growth in achievement in grades 6-8, Blaser said.
Criteria include student achievement on math and English language arts on standardized tests, according to Idaho Education News.
continued:
— — — — — — — — — —
Damage by Vandals to Donnelly Elementary School set at $24,000
By Max Silverson for The Star-News September 13, 2018
Damage done to Donnelly Elementary School by two youths in July totaled about $26,500, McCall-Donnelly School District Superintendent Jim Foudy said Monday.
The school district's insurance company paid about $24,000 to fix the damage while the district paid a $2,500 deductible, Foudy told M-D trustees at their regular meeting.
Franklin Building Supply donated a window to aid in the restoration, and an anonymous donor gave $1,000, he said.
The clean-up was finished in time for the opening day of school on Aug. 28, Foudy said.
continued:
— — — — — — — — — —
Sept. 24 meeting set for proposed McCall charter school
The Star-News September 13, 2018
An informational meeting on a proposed public charter school in McCall is scheduled to begin at 6:30 p.m. Monday, Sept. 24, at the McCall Public Library.
Those attending will hear about the progress of the proposed McCall Community School and learn more about the proposed curriculum and school mission.
The meeting will be a follow-up to a meeting held in March where proponents of a charter school have said they hope to open in time for the 2019-20 school year.
The McCall Community School would initially enroll students in kindergarten through eighth grade. The school is meant to operate as an alternative to traditional classroom education
continued:
— — — — — — — — — —
Budget office warns Idahoans may face bigger tax bills
By Kimberlee Kruesi – 9/10/18 AP
Boise, Idaho — Idahoans may see smaller refunds when filing their 2018 taxes next year because of major changes tied to the new tax law, Gov. C.L. "Butch" Otter's budget office warned on Monday.
According to the Division of Financial Management, the state's tax revenue has faced a shortfall for the past two months because of individual income tax revenue failing to meet estimated forecasts.
As a result, fiscal year-to-date collections have come in about $12.7 million under than anticipated. This means $568.3 million in tax revenue has been received since July 1, less than the projected $581 million.
"The two months of shortfalls to the general fund's largest and most reliable revenue source is inconsistent with the Gem State's healthy job market," wrote Jani Revier, Otter's budget chief, in an August general fund revenue report.
continued:
— — — — — — — — — —
Gas prices in Idaho 40 cents higher than national average
by Chaz Ricks Tuesday, September 11th 2018
Boise, Idaho (CBS 2) — Whether you're commuting to work or planning a road trip with your family or friends.
Gas prices are still high in Idaho and continue to be a challenge for local families.
The average in Idaho for regular unleaded fuel is $3.23 a gallon, which is almost 40 cents more than the national average.
In Boise, the average is $3.45 a gallon. Nearly 60 cents more than the national average!
Prices across the state are up almost 50 cents a gallon compared to a year ago.
source:
—————————–
Mining News:
A Purpose Driven Company
August 29 Midas
Midas Gold says it is a different kind of mining company, but what does that mean? Historically, mining companies have been seen as profit driven and everything else – including the environment, worker safety and communities – was an afterthought. We take a different approach. We believe it is time for mining companies to be purpose driven.
It is no longer enough for projects to just meet basic regulatory requirements. We believe modern, progressive mining companies must encompass a holistic view of their enterprise. Mines must be about more than profit, they need to be about employees, community, protection of the environment and mines must win the support of the communities closest to their sites in order to operate. These concepts are at the heart of Midas Gold.
It is no secret that the mining companies of the past left behind questionable legacies. We understand this has made people skeptical of the mining industry and it is no surprise some of this skepticism extends to us. We understand we have to earn the community's trust by doing things differently than our predecessors and following through on our promises.
continued:
—————————-
Fire Season:
Sept 16, 2018 Fire update:
— — — — — — — — — —
Boise National Forest remains under Stage 1 restrictions
Boise, Idaho, Sept. 13, 2018 –Boise National Forest fire managers are waiting for measurable precipitation before lifting the Stage 1 Fire Restrictions. Conditions are extremely dry and any spark could result in a wildfire.
Dry and warmer weather conditions are predicted to return and continue through the weekend. Winds are expected to increase in the late afternoons.
Boise National Forest visitors may have a campfires within designated fee campgrounds and within established fire structures.
The Idaho Fire Info website has information about wildfires and restrictions for the entire state. http://www.idahofireinfo.com/
The 115 acre Casner Fire is 92 percent contained and was located 13 miles east of Lowman. Firefighters are being released back to their home units. The 26 acre German Fire was contained on 9-12-2018. Fires will be monitored and may continue to smoke until a significant amount of moisture arrives on the forest.
An area closure near Grandjean for the Wapiti Fire remains in effect. Information is available on Inciweb at: https://inciweb.nwcg.gov/incident/6176/
If you need more information regarding road and area closures or fire restrictions, please visit the Boise National website:
https://www.fs.usda.gov/alerts/boise/alerts-notices
— — — — — — — — — —
Big swath of US forest reopens after fire near Idaho/Nevada border
by Associated Press Friday, September 14th 2018
Elko, Nev. (AP) — Hundreds of square miles of national forest in northeast Nevada have reopened for public use after a closure ordered nearly a month ago due to a raging wildfire.
The Humboldt-Toiyabe National Forest announced the reopening of the area Wednesday in the ranger district stretching from the Idaho line to southwest of Wild Horse State Reservoir.
District Ranger Josh Nicholes says the area was cleared following a safety assessment by an emergency response team.
continued:
———————————
Public Lands:
Proposed Lochsa River designation draws strong opposition
9/13/18 AP
Lewiston, Idaho — Residents fear that agencies will have more authority over a northern Idaho river if it is listed in the National Register of Historic Places.
A majority of people who attended a Wednesday meeting in Grangeville voiced strong objections to the idea to place the Lochsa River corridor on the national register, the Lewiston Tribune reported.
The corridor was nominated by the Nez Perce Tribe.
The corridor contains numerous cultural sites that are important to the tribe and its more than 1,000 years of using trails in the area, said Nakia Williamson, director of cultural resources for the tribe.
continued:
——————————–
Critter News:
Pet Talk – Gastric Foreign Bodies in Pets
By Dr. Karsten Fostvedt Sept 14, 2018 IME
A gastric foreign body is any item that is swallowed into the stomach and can't pass into the small intestines. Some gastric foreign bodies can cause severe vomiting due to irritations of the stomach wall. Some foreign objects, such as metals or coins, can poison the pet because of metal toxicities that cause red blood cell destruction.
Gastric foreign bodies occur when something is swallowed but cannot leave the stomach. These can usually include rocks, sticks, large bone fragments, balls, socks, coins and underwear. Some animals eat unusual items as part of a behavioral problem. The consumption of unusual items is called pica.
The most common clinical sign of a gastric foreign body is vomiting. If the foreign body is made of zinc, as is present in many coins, the animal will develop an anemia. Lead foreign bodies can cause lead poisoning. Most foreign bodies are found when X-rays are performed on an animal that is vomiting.
continued:
— — — — — — — — — —
Dogs were flying high at the Zamzows Frisbee Fest
Sept 16, 2018 KBOI (Boise)
The Zamzows Frisbee Fest filled Ann Morrison park Saturday in Boise. The event is a competition in which dogs try and catch a frisbee throw by their owner.
link to photo gallery:
— — — — — — — — — —
State says wolves attacked 5 calves in Ferry County Washington
by AP Monday, September 10th 2018
Spokane, Wash. (AP) — The state of Washington says wolves attacked at least five calves in Ferry County last week, killing one and injuring four.
The attacks occurred Wednesday through Friday in an area once occupied by the Profanity Peak wolf pack, which was wiped out last year.
The Washington Department of Fish and Wildlife says it is studying the latest attacks and weighing non-lethal ways to prevent future wolf attacks.
continued:
— — — — — — — — — —
Snowdon Wildlife Sanctuary plans open house Sept. 22
The Star-News September 13, 2018
Snowdon Wildlife Sanctuary near McCall will host it's annual open house from 1 p.m. to 4 p.m. Saturday, Sept. 22.
The open house is the only time during the year the public can tour the grounds and see wildlife displays and demonstrations.
Those attending are urged to bring a picnic lunch and enjoy the scenic view of Lake Fork Creek from the bridge.
Snowdon is located seven miles out Lick Creek Road east of McCall at end of the pavement
Snowdon's mission is to rehabilitate and return injured and orphaned wildlife to the wild, and provide hands-on education to promote a healthy coexistence with wildlife and the ecosystem.
Snowdon specializes in the rehabilitation of local wildlife, including orphaned baby birds and mammals and injured small mammals, songbirds, waterfowl, and raptors.
The 35-acre sanctuary has a number of animal pens and enclosures, and a clinic equipped to care for ill and injured birds and animals.
Go to http://snowdonwildlife.org for more information.
source:
— — — — — — — — — —
Mexican wolf found dead in Arizona and in New Mexico
9/15/18 AP
Phoenix — Arizona wildlife officials say two endangered Mexican gray wolves, including one in New Mexico, have died.
The Arizona Game and Fish Department said in a news release Friday that both animals were found dead in August, bringing the total number of documented deaths to eight. Authorities did not release any details about the circumstances or where exactly the wolves were found.
Their deaths are under investigation.
continued:
— — — — — — — — — —
Wolf Education International
September 10, 2018 Newsletter
Washington Wolf Killed After Judge Approves Lethal Action
Wolves kill dog on Tofino beach
September 15 Newsletter
Dr. V. Geist Speech: Big Game Forever Banquet and Wolf Symposium
— — — — — — — — — —
Man injured in bear encounter
Sep 11, 2018 AP
Cody, Wyo. (AP) – A 48-year-old hiker from Minnesota has been injured in a bear encounter in northern Wyoming.
Park County Sheriff's Office spokesman Lance Mathess says Bradley D. Johnson of Plymouth, Minnesota, received severe injuries to his arm, shoulder and back when he encountered two bears on Sunday afternoon in the Beartooth Mountains near the Wyoming-Montana border.
continued:
— — — — — — — — — —
Wyoming wardens move 4 grizzlies
Sep 11, 2018 Local News 8
Jackson, Wyo. (KIFI/KIDK) – Wyoming Game and Fish wardens trapped and relocated an adult female grizzly and her two cubs Thursday, September 6. A second sub-adult female grizzly was captured and relocated on Friday.
The family group was captured in response to cattle depredation on private lands in the Cody region. The bear and her cubs were relocated into the Snake River drainage about 10 miles northwest of Moran Junction. The second grizzly was relocated to the Blackrock drainage about 20 miles northeast of Moran Junction.
continued:
— — — — — — — — — —
US judge delays grizzly bear hunts in Rockies 2 more weeks
By Matthew Brown – 9/13/18 AP
Billings, Mont. — A U.S. judge on Thursday delayed for two more weeks the first grizzly bear hunts in the Lower 48 states in almost three decades, saying he needed more time to consider if federal protections for the animals should be restored.
The ruling by U.S. District Judge Dana Christensen left the fate of the bruins in and around Yellowstone National Park in limbo, more than a year after federal officials declared the population had recovered from near extermination.
Up to 23 bears could be killed in the hunts planned in Wyoming and Idaho. Christensen already delayed them once, in an order that came two days before grizzly season was set to open Sept. 1.
continued:
— — — — — — — — — —
Grizzlies suspected in fatal Wyoming attack trapped, killed
The body of Mark Uptain, a hunting outfitter, was found Saturday in the Teton Wilderness east of Grand Teton National Park.
Associated Press September 16, 2018
Jackson, Wyo. – Wyoming officials have trapped and killed two grizzly bears they believe killed a hunting outfitter and injured his client.
Wyoming Game and Fish Department regional supervisor Brad Hovinga said Sunday the grizzlies that were killed matched the description of those that killed 37-year-old outfitter Mark Uptain.
Uptain's body was found Saturday in the Teton Wilderness east of Grand Teton National Park. Corey Chubon of Florida had leg, chest and arm injuries but was released from a hospital.
continued:
— — — — — — — — — —
Photos: Bobcat spotted near Barber Park
KBOI Sept 14, 2018 (Boise)
A bobcat was spotted Wednesday near Barber Park during a conference. (Photo courtesy City of Boise)
link to photo gallery:
— — — — — — — — — —
'She fought hard': Oregon hiker killed by cougar fought for her life, sister says
Wildlife officials said they believe it would be the first fatal wild cougar attack in Oregon history.
KGW September 12, 2018
Welches, Ore. — A missing hiker who was found dead in the Mount Hood National Forest area was killed in a suspected cougar attack, according to the Clackamas County Sheriff's Office.
Wildlife officials said they believe it would be the first fatal wild cougar attack in Oregon history.
"This does have every indication that this is the first fatal attack of a human by a cougar in Oregon," said Brian Wolfer, watershed manager with the Oregon Department of Fish and Wildlife.
continued:
— —
Oregon wildlife officials to hunt for killer cougar
By Andrew Selsky – 9/12/18 AP
Salem, Ore. — Oregon wildlife officials with guns and dogs will hunt for a cougar believed to have killed a woman while she was hiking in rugged terrain near the state's highest peak, a wildlife official said Wednesday.
Diana Bober, who at 55 was an avid and experienced hiker, apparently fought the cougar with repellent, a sharp object and a stick, her sister said.
Bober's body was found Monday, almost two weeks after she was last heard from. She was the first person known to have been killed by a cougar in the wild in Oregon, and the second in the Pacific Northwest this year.
continued:
— — — — — — — — — —
Idaho horse quarantined after being exposed to deadly virus
A Colorado horse infected with equine infectious anemia has put hundreds of other horses at risk.
Gretchen Parsons KTVB September 11, 2018
Boise — State officials are taking extreme caution after a horse that could be infected with a fatal and contagious virus was brought into Idaho.
The animal was purchased in northern Colorado where it was exposed to another horse diagnosed with equine infectious anemia.
When horses become infected with equine infectious anemia, or EIA, they must either be quarantined for life or euthanized, which was the case for this sick horse in Colorado.
But before it was put down and the owners were aware it had contracted the virus, the horse came into contact with hundreds of others, potentially putting them at risk.
continued:
— — — — — — — — — —
Elk knocks man to ground in Yellowstone
Local News 8 Sept 14, 2018
Mammoth Hot Springs (KIFI/KIDK) – An elk knocked a man to the ground in Yellowstone Thursday.
Boyce Schall captured this video of two bull elk fighting in Mammoth Hot Spring when one of them charged visitors and knocked a man to the ground.
Officials remind you elk mating season can be very active. Be alert and always stay at least 75 feet from all elk.
source w/video:
————————–
Fish & Game News:
F&G asks grouse hunters to place wings in collection barrels
The Star-News September 13, 2018
The Idaho Department of Fish and Game asks grouse hunters to donate forest grouse wings to help with conservation and tracking efforts on West Mountain this fall.
Wings should be deposited into five collection barrels placed on West Mountain. Hunters are encouraged to detach and deposit the right wing from ruffed, spruce and dusky grouse into the barrels. Instructions are located on each barrel.
Fish and Game uses grouse wings to determine a bird's age and sex, allowing biologists to track population trends over time.
Hunters are asked to look for wing collection barrels at these locations:
• No Business Road (Forest Road 186).
• Poison Creek Road (Forest Road 436).
• Anderson Creek Road (Forest Road 435).
• Snowbank Mountain Road (Forest Road 446).
• East Fork, Weiser River Road (Forest Road 172).
source:
— — — — — — — — — —
Idaho hunters, anglers contend with disappearing ink routine
Fish and Game says some licenses and tags have fading print and are turning into blank pieces of paper.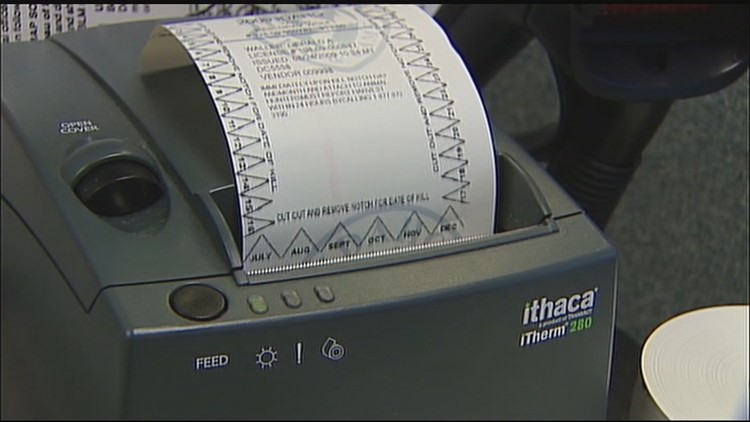 KTVB September 11, 2018
Boise — Idaho anglers and hunters not only have to contend with elusive fish and wildlife, now even their licenses and tags are vanishing.
The Idaho Department of Fish and Game in a statement Tuesday says some licenses and tags have fading print and are turning into blank pieces of paper.
Fish and Game spokesman Roger Phillips says it's the old disappearing ink routine apparently caused by faulty heat-sensitive paper.
The agency says that hunters and anglers who purchased the fading documents that allow them to legally hunt and fish can get replacements free of charge.
Hunters and anglers can visit any regional Fish and Game office or mail them in to get a replacement.
source:
— — — — — — — — — —
Here are rules and reminders for hunting on Idaho state endowment lands
F&G recently signed an agreement to keep 2.3 million acres of endowment lands open to hunting, angling and trapping
By Roger Phillips, Public Information Specialist
Thursday, September 13, 2018
As you head out to hunt on Idaho Department of Lands parcels, the please keep these three things in mind:
Fire season isn't over yet, and people cause most fires.
Although temperatures are expected to drop and relative humidity to rise in the coming weeks, we are still very much in fire season and will be through the end of October. Fires will continue to burn until we experience a "season-ending weather event," meaning enough rain or snow for fire managers to call the fire season to an end.
Most wildfires today are not naturally occurring. On lands protected by the State of Idaho, people – not lightning – are responsible for more than three-quarters of the fires this year, accounting for 98.4 percent of the acres burned.
There are still restrictions on campfires and smoking outdoors right now in parts of southern Idaho. View current fire restrictions online here. If campfires are allowed where you plan to hunt, make sure your campfire is cool to the touch before leaving it so you do not unintentionally start a wildfire. View other campfire safety tips here.
continued:
— — — — — — — — — —
Get the facts about bats, including how to remove one from your house
Podcast and video will help you better understand an oft-misunderstood animal
By Roger Phillips, Public Information Specialist
Wednesday, September 12, 2018
Many people's interest in bats peaks around Halloween when they're used as scary decorations, but Idaho's bats are much more than a prop. They're an interesting and important Idaho wildlife species, and Rita Dixon, Fish and Game's wildlife action plan coordinator, recently shared her expertise about bats in a podcast at Boise State Public Radio.
Most people will never encounter a bat more closely than one flying around their homes and eating insects, but in the unlikely event one finds its way into your home, here's a safe way to deal with it.
source w/video:
— — — — — — — — — —
More F&G News Releases
https://idfg.idaho.gov/press
———————————-
Fun Critter Stuff:
Huge squirrel population chomps crops, driving farmers nuts
by David Sharp, Associated Press Sunday, September 16th 2018

In this Tuesday, Sept. 11, 2018 photo a squirrel carries a walnut in Portland, Maine. A bumper crop of acorns, pine cones and other staples last year led to a population boom of squirrels. (AP Photo/Robert F. Bukaty)
(AP) — There's a bumper crop of squirrels in New England, and the frenetic critters are frustrating farmers by chomping their way through apple orchards, pumpkin patches and corn fields.
The varmints are fattening themselves for winter while destroying the crops with bite marks.
continued:
——————————–
Seasonal Humor:

———————————
Tips & Advice:
How to protect your eyes from the smokey air
By Katie Keleher Sep 10, 2018 Local News 8
Idaho Falls, Idaho (KIFI/KIDK) – Smokey skies are causing eyes to become irritated, itchy and watery. Optometrist Lisa Porter says she's seen a lot of patients lately affected by the smoke and allergens in the air.
… She recommends using over the counter eye drops to alleviate the effects. She also says don't wait too long to get your eyes taken care of or you may need a steroid. Another way to prevent symptoms is putting in an artificial tear such as Refresh or Systane before going outside.
"If you can put that tear in before you go out and then again when you come back in, it's actually going to alleviate some of those allergens and toxins that can get in your eye and cause that swelling and redness and edema," Dr. Porter said.
If your eyes are puffy due to the air, use something cool to alleviate the swelling.
full story:
—————————–