June 23, 2019 The Yellow Pine Times – Valley County, Idaho
Community Calendar:
April 2 – Boil water order issued
Every Sunday – 11am Fire Training
May 10 – Burn "permits" required
May 15 – Firewood Season opens
June 27 – Noxious Weed Spray day
June 28-29 – 9am – noon, Community Yard Sale at Community Hall
June 29 – Highland Games start 10am
June 29 – Karaoke at The Corner
July 2 – Ice Hole Campground opens
July 3 – 9am – noon, Community Yard Sale at Community Hall
July 4 – 2pm, parade, fireworks at dusk
July 4-5 Folk Family Revival playing at The Corner
July 6 – Golf Tournament & Breakfast
July 6 – Karaoke at The Corner
July 7 – Annual YPWUA Meeting 10am Community Center
July 11 – Dust Abatement (tentative)
July 13 – 10am YPFD meeting at the Fire Hall
July 13 – Ride to Big Creek
July 13 – Willie and the Singlewides playing at The Corner
July 20 – VYPA meeting and election 2pm Community Hall
July 27 – Festival meeting Saturday 2pm at the Community Hall
July 27 – Memorial and potluck for Wilbur Wiles (Big Creek/Edwardsburg)
Aug 10 – VYPA meeting 2pm Community Hall
Sept 14 – 10am YPFD meeting at the Fire Hall budget meeting
Sept 14 – Ride to Cinnabar
Sept 21 – VYPA meeting 2pm Community Hall
(details below)
———-
Local Events:
Noxious Weed Spray day June 27
Hi Yellow Pine Residents,
It's that time again to get a handle on those Noxious Weeds on your property with the Valley County Cost Share Noxious Weed Control Program. Steve Anderson's crew will be in Yellow Pine in the Fire Department Parking Lot on June 27th. They will have on hand the chemicals, and sprayers for us to use. The specific herbicide is Milestone and is free for our use. Usually more than one year of treatment is needed and we took advantage of the program last year. I found great results on a Kudzu type plant in my yard in just one year. The Thistles will need another treatment. We either need you to spray or appoint one of our crew to help you with the application. Please email Steve Anderson of the Valley County Weed Control Program that you wish your property to be treated at SAnderson@co.valley.id.us phone number is 208 382-7199. I also have forms at the Yellow Pine Tavern if you wish to fill a form out there.
Thank You
Lorinne N. Munn
— — — —
Community Yard Sale at Community Hall
June 28, June 29, July 3; 9am – noon, Community Yard Sale at Community Hall. Won't be in at those dates/times? Contact Deb (6336945) or Ronda (6332005) and we'll make arrangements for you to browse.
Do you have items you are willing to donate to the Community Yard Sale? You can leave them inside the Community Hall through June 25th. Thank you for your support!
— — — —
June 29 – Highland Games
For the second year, Bald Mountain Knuckle Draggers will bring the Highland Games to Yellow Pine on June 29th. Last year they donated over $2,600 to the Helipad and this year money will be raised for the water department. Come see these fantastic athletes and support the water department.
The games will begin at 10 am on Saturday morning. Corn dogs and hamburgers will be available.
— — — —
Ice Hole Campground will open July 2nd
The Campground has been temporarily closed to provide for public safety during reconstruction. This order will be in effect from September 27, 2018 through July 2, 2019, unless rescinded earlier by the Forest Supervisor. (0402-04-80)
— — — —
Independence Day Celebrations
July 4th
Parade at 2pm, Fireworks at dusk
If you want to be in the parade, meet at the firehouse at 1:30pm
The Corner
Folk Family Revival will be playing on Thursday and Friday, July 4-5, with Karaoke on Saturday, July 6.
Golf Tournament July 6
It's time to plan for the annual 4th of July Yellow Pine Golf Tournament. This year the proceeds will support the Community Hall and road repair.
The event will begin July 6th at 11am at the golf course, where the fairways aren't fair and the greens aren't green. The cost will remain the same at $50 per couple for sponsoring a hole with a sign displayed. $20 for individuals, each person playing will get a ticket for beer, additional tickets can be purchased for $3. Soda and water are free. Checks can be written to VYPA (Village of Yellow Pine Association)
There will be prizes for first, second and third places for men's women's and mixed. Also, there will be a prizes for closest to the pin. Spots go quickly, so be one of the first!
There will be a hearty breakfast at the museum from 8-10. The cost is $6 and all proceeds benefit the upkeep of the museum.
golf contact: Marj Fields 633-4666
— — — —
Celebration of Life – Wilbur Wiles
Potluck celebration of life at his cabin 27 July.
— — — —
2019 Yellow Pine Escapades
The 2019 schedule for the Yellow Pine Escapades has been updated on the website!
Expect new escapades this coming year, including an ATV-UTV Photo Scavenger Hunt; two (yes, two) ATV-UTV rides, a golf tournament, and even a community yard sale. Other events will be added to the calendar as plans are finalized.
Join us for a great season of fun! The starting point for fun in Yellow Pine! The website includes information on the events hosted by the Yellow Pine Community Hall as well as the other "goings-on" in the village. Food, lodging and fuel are available in Yellow Pine. link:
———-
Village News:
Dust Abatement (tentative) July 11
At this time, Yellow Pine is on the schedule for dust abatement on July 11th. If they can make it sooner I will let us know. I will be in touch with each of you that has requested dust abatement with your cost info. Please make checks payable to North American Dust Control. Thanks, Deb Filler 208-633-6945
— — — —
July 13
Willie and the Singlewides will be playing at The Corner.
— — — —
Yellow Pine Transfer Station
A report on May 30 that the Transfer Station bins were empty. Reports of issues with the burn pile already. READ the SIGNS!
Please do not abuse our Transfer Station or we may lose it. Household trash must be placed in the bins, flattened cardboard boxes can also go into the bins. Do not stack trash in front of the doors. Woody yard debris only for the burn pile. No furniture, appliances, tires or construction debris allowed, those items must be hauled out to the Donnelly station by you.
Yellow Pine Transfer Station (aka, the dump)
The Yellow Pine Transfer Station is located approximately 3 miles south on Johnson Creek Road.
The TRANSFER STATION is for household trash and yard waste:
* Household trash must be put inside (and fit) the dumpster;
* Yard waste (limbs, pine needles, brush, et.) goes in the burn pile on the south end of the turn-around;
* Cardboard boxes should be flattened before putting the in the dumpster,
The DUMPSTERS are NOT for:
* Furniture (take to Donnelly Transfer Station);
* Appliances (take to Donnelly Transfer Station).
The BURN PILE is NOT for:
* Cardboard boxes (flatten and put in dumpster);
* Furniture and appliances (take to Donnelly Transfer Station);
* Drywall and building material (take to Donnelly Transfer Station);
* Wire or fencing (take to Donnelly Transfer Station);
* Foam Rubber (take to Donnelly Transfer Station);
* Wood with metal (like nails) attached (take to Donnelly Transfer Station.)
When closing the DOORS on the front of the dumpsters:
* Make sure the "U" brackets at the top and bottom of the door are engaged;
* The retaining bar at the middle of the door is slid into the pipe;
* And the "L" bars at the bottom of the doors dropped into place.
The Yellow Pine Transfer Station is Valley County responsibility. If it is not kept tidy, use of the Transfer Station may be revoked. That would result in residents having to take all household trash and yard waste to the Donnelly Transfer Station.
If Dumpsters Are Full, Contact Lake Shore Disposal at: 208/634-7176
— — — —
Roads
Johnson Creek Road is open.
Stibnite Road will be open to the public on Weekends
Update from Midas June 21, 2019
OK Gravel is continuing the last bit of work to fully repair Stibnite Road. During construction, the Valley County Road and Bridge Department will continue to keep Stibnite Road closed to facilitate a faster construction process. When crews are not working on the road, it will be open for public access.
This means the road will be open for public travel on the weekends. The road will open beginning Thursday evenings at 6:00 p.m. and remain open until 7:00 a.m. Monday mornings.
At this time, the road will remain closed during the week from 7:00 a.m. Monday until Thursday evening at 6:00 p.m. in order to complete repairs on the road.
Photo from Midas Gold June 11:

Also, Profile gap is open and Lick creek is passable with 4 wheel drive. – MH
— — — —
Snow in June
Several reports of snow in Big Creek, Stibnite and Deadwood on June 20th.
— — — —
History of the log cabin at the Cemetery
The Cemetery Committee is interested in any information on the cabin that is located by the cemetery. We know that it had been on the property that was known as "Mary's Cabins". It was moved by Tom Richter while the Filler's were building their house. Donna Valdez said that the people who ran the cafe and bar slept there, before the Tavern was built.
Do people have pictures or any information they can share? We'd love to put a plaque up on the cabin while we repair it.
– Marj Fields
— — — —
Yellow Pine US Mail
June 1st started 6-day a week mail delivery. The Post Office in Yellow Pine is open six days a week: M-F 845am-245pm Saturday 9am-245pm. Forever Stamp: 55 cents
— — — —
Tick Season
Lots of ticks this year. Please check your pets (and kids) for ticks, a tick bite paralysed a local dog recently, removal of the tick led to full recovery.
Mosquitoes and no-see-ums are thick this year.
— — — —
Predators
It is denning season for wolves and coyotes and they will be very aggressive towards dogs. Watch for mean mamma does this time of year – they will stomp your dogs! A while back an eagle was attacking duck decoys on the edge of the village, sharp shinned hawks are around. Bears are around, no recent reports. Please do not leave pet food outdoors and remember to keep trash secured, it will draw bears, foxes, coyotes and loose dogs.
Reminder for people living in bear country:
* Garbage should be stored inside the house or in a secure garage or storage building.
* If garbage cannot be stored in a secure location, a bear-resistant container approved by the Interagency Bear Committee is recommended.
* Avoid using bird feeders from March through November. Birds do not need supplemental feeding this time of year.
* Pet food should not be left outside.
* BBQ grills or anything with a strong odor should not be left out at night.
* Protect gardens, beehives, and compost piles with electric fencing.
* Never intentionally feed bears. A food-conditioned bear may pose a threat to human safety and usually results in the removal of the bear.
———-
Local Groups:
YPWUA News:
Water Update June 21:
Boil Order is still on and no lawn watering. People from the Idaho Rural Water will be in on July 1st to assist us on the leaks. – Steve H
Water Update June 23:
Water use continues to be extremely high, averaging in the 35,000 gallon per day range. As stated before, the system cannot treat that much water properly and as a result the boil order remains in place. – Warren
Water Update June 7:
1. The "boil order" is still in effect.
2. There is still large water leaks in the system. We continue to look.
3. A grant for $39,000 was approved for improvements to the system. (See story in Idaho News)
3. Work is currently being done on the new contact tank.
4. Please, no lawn watering until we find and repair the major leaks.
– Steve Holloway
link to: #4430059 Yellow Pine Water Users Boil Water Notification 4-2-19.pdf
link to: 2018 September Water Department Update.docx
2019 YPWUA Yearly Meeting
Sunday July 7th 10am Community Center
1. Financial Report – Willie
A. Current Account
B. Budget
C. Future rate increases
D. New Procedure Actions for Non-Payment
2. Operations Report – Steve
A. Current Operations
B. Chlorine levels
C. Grant and work necessary
D. Boil Order Notification
E. Future Grants
F. Summer lawn watering
3. Election of Board Members
A. Dawn Brown and Stu Edwards, both are automatically nominated
Only shareholders can run and vote
4. Questions
— — — —
VYPA News:
Village of Yellow Pine Association Meeting Minutes for June 8, 2019
link to: 20190608 Village of Yellow Pine Association
*correction* election will be July 20th
VYPA Meeting Dates 2019
June 8th; July 20th; August 10th; September 14th – 2pm at the Community Hall.
Note that the July 20th meeting is not on the second Saturday due to a conflict with a planned ATV rally involving many residents and visitors.
Yellow Pine Harmonica Meetings 2019:
March 30, 2019 Saturday 2pm at the Tavern
April 23, 2019 Tuesday 2pm at the Tavern *Cancelled*
May 23, 2019 Thursday 2pm at the Community Hall
June 20, 2019 Thursday 2pm at the Community Hall
July 27, 2019 Saturday 2pm at the Community Hall
— — — —
YPFD News:
YPFD May 18, 2019 Meeting minutes
link to: 20190518 YP Commissioners Meeting Notes FINAL.docx
Meetings will be held at the fire station at 10:00am and everyone is welcome to attend. June 15th; July 13th; and Sept 14th (which will also be the budget meeting as well).
Every Sunday 11am – Training
May 10th Burn Permits – contact the YPFD
Pile burning: Dress appropriately, have enough help on hand (people, water and tools) and make a firebreak before you start. Call your local fire protection district chief to let them know you'll be conducting a debris burn. This saves them from sending emergency responders to your property if they are not needed.
Bring it, Don't Burn it
For us in Yellow Pine, Jake Strohmeyer, Dist. Ranger with the Boise NF said we can use the area at our transfer station for yard debris and the FS will burn it once a year. Please no furniture, mattresses, construction debris, metal objects, tires or personnel junk. Please only woody yard debris. When using the pile please be mindful of where you place the debris as it should be contained to a manageable burnable area and kept as clean as possible. – JF

Training: Sunday Fire/EMS training has begun. Sundays at 11:00 AM unless otherwise posted. If Jeff F is in town the trainings will be held. All are welcome.
Safety Message: The best place to be during an avalanche, rock fall or a tree fall due to the wind is not there, please use extreme caution and common sense when conditions exist for these scenarios.
"If you are an Adventurist, please do not go out alone in steep areas. The spring thaw is an extremely dangerous time for Avalanches. The freezing and thawing create layers that break away from each other with the slightest disturbance. Scree fields are especially dangerous this time of year because of hidden ice that makes them even more unstable. Please be careful out there."
YP Helispot: We are working with Valley County Road Department and the Boise National Forest for the rock base for the road leading into the Helispot and the actual Helispot itself. We are also receiving rock for the Fire Hydrants, water tank foundations, etc. The rock will come from the Valdez pit and will be less expensive than having it trucked in from Cascade.
Stop the Bleed Course: This course was well attended in the Fall and Jeff F and Ann F will be presenting another course when the new instructor material comes out. There are "Stop The Bleed" kits at the Tavern in an emergency.
Siren Testing: The YPFD siren will be tested only once this year on the first of May at noon. 3 blasts of the siren is a test, more than 3 is an Emergency.
-JF
——–
Biz Listings:
Yellow Pine Lodge (208) 633-3377
Call for reservations
— — — —
The Corner (208) 633-3325
Our hours will be 11-8 every day, except closed on Tuesdays. We are open for breakfast by request and always have good coffee starting at 6:00 am. We will be staying open late for Karaoke this upcoming weekend for the Highland games.
Folk Family Revival will be playing on Thursday and Friday, July 4-5, with Karaoke on Saturday, July 6. Our menu will include smoked brisket and chicken in our sweet bourbon sauce, and smoked tri-tip with grilled onions and pepperjack. The smoked chicken makes a great salad with our fresh black bean corn salsa. Burgers and wings will be on the grill as well for the rest of the summer.
Willie and the Singlewides will be playing July 13.
The Corner has firewood permits in stock now. 4 cord minimum at $6.25 per cord. Please call to make sure I'm around before Memorial Day, bring drivers license and cash is preferred, no CC.
The Corner Store will also be open with snacks, groceries, fresh produce, soda, ice and packaged beer. If you know you will be coming in over the summer and need special grocery orders, let me know and I will order it in for you while you are here, 2 deliveries a week. The best way to get a hold of me is to call or stop by and say hello.
Karaoke is back at The Corner! Choose your favorite songs from our online music library and entertain your friends up on stage through our professional sound system.
— — — —
Yellow Pine Tavern (208) 633-2233
Summer Hours Daily 8am to Close
— — — —
Buck Horn Outfitters LLC 208-633-3614
Tom & Sarah Lanham
156 Yellow Pine Ave, Yellow Pine Id 83677
Website:
Link to FB page:
—
Wapiti Meadow Ranch – Johnson Creek (208) 633-3217
or 208-315-3554 cabin rentals
website:
—
Deadwood Outfitters
Link to website:
— — — —
Local Fuel Suppliers
Amerigas Phone: (208) 634-8181 Note: Summer deliveries have started, call if you need propane.
Ed Staub & Sons Phone: (208) 634-3833
Diamond Fuel & Feed Phone: (208) 382-4430 – Wild Bird Seed 50LB Bag for $25.58
— — — —
Outside Biz that will service Yellow Pine:
Elkhorn Heating & Cooling
(208) 906-4067 Middleton, Idaho, Will service Yellow Pine
B&T Safety Solutions LLC
208-271-1600 Based out of Donnelly
Snow removal, cleaning chimneys and stoves, we do cabin staining/chinking as well
— — — —
Follow The Yellow Pine Times on Facebook (updated more often than emails)
———————–
Local Observations:
Monday (June 17) overnight low of 45 degrees, most of the sky covered in high haze this morning and partly clear. Swallows hunting feathers (6 eggs in the nest we are watching – see photo below), finches and grosbeaks calling. Ground and pine squirrels active. Partly cloudy mid-day, warm and light breezes. Mostly cloudy by late afternoon, high of 85 degrees. Shooting to the west started at 640pm and lasted around half an hour. Mostly cloudy by early evening and light breezes. At dusk it was mostly cloudy and windy. Partly cloudy and breezy before midnight. Internet spotty after midnight.

Tuesday (June 18) overnight low of 45 degrees, mostly clear sky this morning. OK trucks stockpiling gravel, streets are really dusty. Swallows taking feathers to the nests (6 eggs), finches and pinesiskins calling, pine and ground squirrels very active. Clouds building up mid-day and getting warm. Horseflies are out. Warm and partly clear mid-afternoon, high of 82 degrees. Steller jay visiting. Cooling off after sundown, partly clear. Partly cloudy at dusk. Lot of stars out before midnight.
Wednesday (June 19) overnight low of 43 degrees, mostly cloudy sky this morning. Early loud airplanes. Pine squirrels very vocal, robins, finches, pinesiskins and raven calling. Partly cloudy mid-day, mild and gusty breezes. Swallow eggs have not hatched yet. Finches, pinesiskins and a jay visiting. More normal temperatures this afternoon, not so hot, high of 74 degrees. A couple of hummingbirds visited. Partly cloudy by evening, cool breezes. Mostly clear at dusk. Lots of stars out before midnight.
Thursday (June 20) overnight low of 35 degrees, overcast sky this morning. Early air traffic. Finches and pinesiskins visiting, swallows taking feathers (spy cam shows eggs have not hatched yet.) Cool breezy morning, breaks in the clouds before noon. Calliope hummingbird visiting. Overcast, blustery and rain showers for about an hour mid-day. Dark clouds, breezy and rain showers late afternoon for about 15 minutes, then breaks in the clouds and chilly breezes, high of 53 degrees. A report of snow at Big Creek, Stibnite and Deadwood. Another blustery rain shower for about 25 minutes with dark clouds mid-evening. Broken cloud cover and chilly light breeze late evening. At dusk it was partly cloudy and lots of happy robins calling. Mostly clear before midnight, lots of stars and a bright planet rising over Antimony Ridge.
Friday (June 21) overnight low of 33 degrees, mostly cloudy with some blue sky and chilly breezes this morning. Several steller jays visiting. An olive-sided flycatcher calling "free beer!", finches, pinesiskins and robins calling. Overcast and breezy mid-day, a little warmer than yesterday. No eggs have hatched yet in the swallow nest, no males around. Dark overcast and breezy mid-afternoon, high of 57 degrees. Breaks in the clouds and scattered sunshine late afternoon. Increasing street traffic. Mostly clear just after sundown. Lots of stars out before midnight.
Saturday (June 22) overnight low of 29 degrees, clear sky and light breeze this morning. Air traffic directly over the village (some loud, some low.) No eggs in the swallow nest have hatched yet, the male swallows came back, finches and robins calling. Clouds building up by lunch time. Jays, finches and pinesiskins visiting, pine and ground squirrels active. Mostly cloudy and light breezes by early afternoon, high of 69 degrees. Extra traffic, streets are drying out again and getting a little dusty. Mostly cloudy and light breezes late afternoon and early evening. Partly cloudy at dusk, lots of robins hopping around.
Sunday (June 23) overnight low was above 40 degrees, mostly cloudy sky this morning. Air traffic early and a wonky sounding plane at 941am. Swallows swooping for feathers. Finches, pinesiskins and a jay visiting. Mostly cloudy and light breezes mid-day. Finches and swallows calling. Increased traffic kicking up a lot of dust. Mostly cloudy, breezy and mild temperatures mid-afternoon, high of 75 degrees. Eggs are starting to hatch in the swallow nests late this afternoon. Mostly cloudy and light breezes early evening. Young ground squirrels out and running about, population boom continues. Gusty winds kicking up mid-evening.
————————-
Idaho News:
Grant to fix leak in Yellow Pine water tank, build new lines
By Max Silverson for The Star-News June 20, 2019
The Village of Yellow Pine was awarded a $39,385 grant from the Idaho Department of Commerce to fix a community water tank, which was found to be leaking.
The Idaho Gem Grant was awarded to Yellow Pine in partnership with Valley County and the West Central Mountains Economic Development Council.
Funds will be used to fix the leaks in the system and upgrade safety equipment so residents and visitors can be assured of clean and safe drinking water, said Andrew Mentzer, Executive Director of the West Central Mountains Economic Development Council.
Repairs will fix the 75,000-gallon tank and install new connecting lines.
Midas Gold Idaho donated $10,000 in matching funds for the grant.
Village water system administrators aim to complete the project this summer.
Gem Grants are given to economic development projects in amounts up to $50,000.
The West Central Mountains Economic Development Council worked closely with Valley County and residents of Yellow Pine to get this project funded, and will continue to assist partners until project completion, Mentzer said.
source:
— — — — — — — — — —
Yellow Pine to be site of Highland Games on Saturday
The Star-News Tom Grote (via email)
The Bald Mountain Knuckle Draggers will bring the unique sport of Highland Games to Yellow Pine on Saturday.
The Weiser group will present nine traditional Scottish events including Scottish hammers, stones, weight for distance, caber toss, weight for height and sheaf toss.
The event starts at 10 a.m. and is expected to run all day. Admission for spectators is free and members of the public are invited to compete for a $30 registration fee.
Bald Mountain Knuckle Draggers T-shirts will be sold while food and drinks will be sold by Yellow Pine businesses.
Proceeds will help pay for maintenance of Yellow Pine's community water system. Last year's event raised $2,600 to improve the helipad used for emergency medical evacuations.
Yellow Pine is located about a two hour drive east of McCall with access via Warm Lake Road, the South Fork Road and the East Fork South Fork Road.
— — — — — — — — — —
Snow in June? Coolest Temperatures of the week Thursday
by CBS 2 News Staff Thursday, June 20th 2019
Parts of Idaho are getting some snow in June.

(photo Big Creek Lodge June 20th from webcam)
source with video:
— — — — — — — — — —
Idaho auctions 8 Payette Lake lots for $2,692,000
News release from Idaho Department of Lands
(Boise) – The Idaho Department of Lands (IDL) auctioned eight state-owned lots at Payette Lake for deeded ownership during a public, oral auction today in Boise, receiving $878,000 above the appraised value.
The land sales today generated $2,692,000 for the endowment funds that support State Hospital South, Idaho State University, and Lewis-Clark State College. The Idaho Constitution requires a public auction for the disposal of state endowment trust lands, and IDL can accept no less than the appraised value of the properties.
A list of the auctioned lots and winning bids is attached.
Five upland (not lakefront) properties are un-leased. One lake front and two upland lots auctioned are currently leased and have homes on them. The land is owned by the State of Idaho, and the cabins and other improvements on the land are owned by leaseholders as personal property. The auction was for the land only. The current leaseholders applied to participate in the auction and today all three leaseholders had the winning bids.
There was competitive bidding on seven of the eight lots with 22 registered bidders at today's event. The only property with no competitive bidding was the lakefront leased property that sold for the appraised value of $1,243,000.
The highest competitive bid was on an upland leased lot that sold for $290,000, nearly 250 percent about the $83,000 appraised value for the land. The second highest winning bid was for an un-leased lot that sold for $264,000, nearly 257 percent above the $74,000 appraised value.
info from FB:
— — — — — — — — — —
Boise man killed in motorcycle crash on Highway 55
Police say the motorcyclist hit a guardrail and was thrown from the bike.
KTVB June 17, 2019
Banks, Idaho — A Boise man died after crashing his motorcycle into a guardrail along Idaho 55 Monday morning, Idaho State Police said.
The crash happened north of Banks at about 9:50 a.m.
continued:
— — — — — — — — — —
The intersection of Banks-Lowman Road and Highway 55 is a safety concern for locals
Gretchen Parsons June 17, 2019 KTVB
Banks, Idaho — Busy and dangerous is how locals describe the intersection of Banks-Lowman Road and Highway 55.
"Definitely dangerous, every year working at this raft company we anticipate a car wreck that we are going to be first responders to," said Stephanie Skaggs, who works at Bear Valley Rafting in Banks.
Last summer, 30-year-old Kristine Stapleton died after another car struck her as she made a left onto Highway 55 from Banks-Lowman Road.
Before Stapleton's death, there have been five other traffic accidents in the same spot since 2013.
continued:
— — — — — — — — — —
Logjam removed from South Fork of the Payette River
The logjam, described as a "death trap," has been hindering the passage of kayakers and boaters for about two months.
KTVB June 18, 2019
Boise, Idaho — A logjam on the South Fork of the Payette River that created a hazard for kayakers and rafters for the past two months is finally gone.
It was located near mile marker 4 on the Banks-Lowman Road.
Officials wanted to remove the logjam before the rafting season on the South Fork got into full swing.
continued:
— — — — — — — — — —
Closures, detours to start on U.S. 95 bridge replacement
The Star-News June 20, 2019
Nighttime closures of up to 12 hours and single-lane detours are set to start on U.S. 95 north of Council where a bridge over the Weiser River is being replaced, the Idaho Transportation Department said.
Intermittent night closures will occur throughout the summer and fall, and pilot cars will guide motorists through a single-lane detour over the Fruitvale-Glendale Road, an ITD news release said.
Delays of up to one hour should be expected and no vehicle longer than 40 feet will be allowed to use the detour.
The new bridge, located 10 miles north of Council, will replace the current bridge built in 1939 and will be wider with upgraded guard rails and additional safety enhancements, the news release said.
For information, go online to Idaho 511, write to Jennifer.Gonzalez@itd.idaho.gov or call 208-334-8938.
source:
— — — — — — — — — —
States to receive federal payments
June 20, 2019 Local New 8
The U.S. Department of Interior will give the states $514.6 million in PILT, or Payment in Lieu of Tax, payments this year.
The payments are made to local governments to offset their inability to collect property taxes on federally owned property within their boundaries.
PILT payments are used to carry out vital services like firefighting, law enforcement, public schools and roads. Each county's share is based on the amount of federal property within its boundaries.
link to: County Break down
———————–
Letter to Share:
Stabilize the Secure Rural Schools program
By Sen. Mike Crapo Jun 19, 2019 IME
"Ninety-seven percent of land in Custer County is state and federally owned and exempt from taxation," explained Wayne Butts, Custer County commissioner and Idaho Association of Counties Public Lands Committee chairman. "Counties and schools like ours can't operate without federal forest payments."
This is the crux of why addressing the expiration of the Secure Rural Schools program is important. The SRS program has become vital in budgeting for essential services in Idaho's forested counties with large tracts of tax-exempt federal lands. It is time to meet the federal obligation to these counties and create a permanent, lasting program for Idaho counties and schools surrounded by tax-exempt federal lands. A long-term endowment assisted by forest products receipts would ensure certainty for parents, students and those traveling Idaho's roads and bridges.
Fellow U.S. Sens. Ron Wyden, D-Ore., James Risch, R-Idaho, Jeff Merkley, D-Ore., and I recently reintroduced the bipartisan S. 1643, the Forest Management for Rural Stability Act, which would establish a growing endowment to provide funding needed for schools, road maintenance, law enforcement and other essential services. The legislation would end the need for short-term or retroactive reauthorizations of the Secure Rural Schools program, which expired at the end of fiscal 2018.
continued:
———————–
Mining News:
Midas: Cascade project will provide homes to workers
Cascade River Ranch now called The River District
By Max Silverson for The Star-News June 20, 2019
A proposed 499-unit development in Cascade would provide much-needed homes for employees of Midas Gold, the Cascade Planning and Zoning Commission was told Monday.
Midas Gold Idaho Community Relations Manager Belinda Provancher spoke in favor of The River District, which is the new name for the project formerly known as Cascade River Ranch.
About 130 Midas employees are expected to move to the Cascade area if the company's proposed gold mine near Yellow Pine moves forward, Provancher said.
No decision was made on Monday by the P&Z, which will take up the proposal again on July 1.
continued:
— — — — — — — — — —
Texas oil company denies wrongdoing in Idaho royalty lawsuit
June 20, 2019 AP
Boise, Idaho (AP – A Texas-based oil and gas company being sued in federal court by Idaho mineral rights owners over royalty payments says it has done nothing wrong and the lawsuit should be dismissed.
Alta Mesa and other companies associated with it in court documents filed Wednesday deny any wrongdoing involving oil and gas leases in southwestern Idaho.
The initial lawsuit filed in Idaho's Third District Court in May said the company underpaid natural gas royalties to leaseholders by altering royalty accounting methods.
continued:
———————
Public Lands:
Summer Hours for the McCall District Office
Payette National forest, June 17, 2019
McCall, Idaho – The McCall District Office is open with extended summer hours through the Labor Day weekend. Maps, passes and fuel wood permits are available for purchase, and recreation information is available to visitors. Stop by and learn about the numerous opportunities available on your public lands.
Tuesday – Friday 8:00: a.m. to 5:30 p.m.
Saturdays: 10:00 a.m. to 2:00 p.m.
Mondays: Normal hours of 8:00 a.m. to 4:30 p.m.
Sundays: Closed
Following Labor Day weekend, the office will return to normal business hours of Monday – Friday, 8:00 a.m. to 4:30 p.m.
— — — — — — — — — —
Shooters: Be sure to pick up your trash and don't shoot signs and fences
Max Cohan Jun 20, 2019 Local News 8
With summer nearing, people are getting out and getting active. Things like hiking, biking and running are popular activities on public lands, but recently shooters have been getting some attention for leaving their mark.
Now there's nothing illegal about shooting on public lands but there are some things you need to know to keep yourself and others safe.
"Disbursed shooting is acceptable and we do ask that people do it in an appropriate manner," Lori Bell, a District Ranger for the U.S. Department of Agriculture, said.
continued:
— — — — — — — — — —
Southwest Idaho Resource Advisory Committee Soliciting for Nominees
McCall, Id., June 18, 2019 – The Secure Rural Schools Act authorizes the use of Resource Advisory Committees (RACs) as a mechanism for local community collaboration with federal land managers in recommending Title II projects on federal lands, or that will benefit resources on federal lands.
The Southwest Idaho RAC represents Ada, Adams, Boise, Elmore, Gem, Valley, and Washington counties and includes the Boise, Payette, Salmon-Challis (portion of the Middle Fork Ranger District within Valley County), Sawtooth (the Fairfield Ranger District within Elmore County) and Wallowa-Whitman (Hells Canyon NRA within Adams County) National Forests.
The terms for the majority of the Southwest Idaho RAC members have expired, and the RAC is seeking to fill several vacant positions. New members are needed so the RAC can select and fund projects. Each RAC consists of 15 members and 3 replacement members appointed by the Secretary of Agriculture. Committee members are representatives of many interests in three categories. The Southwest Idaho RAC currently has 5 members, and is soliciting for nominees for Categories A, B, and C that represent the following categories:
Group A:
* Organized labor or non-timber forest product harvester groups
* Developed outdoor recreation, off highway vehicle users, or commercial recreation activities;
* Commercial timber industry
Group B:
* Nationally recognized environmental organizations
* Regionally or locally recognized environmental organizations
* Archaeological and historical interests
* Nationally or regionally recognized wild horse and burro interest groups, wildlife or hunting organizations, or watershed associations
Group C:
* Hold state elected office or their designee
* Hold county or local elected office
* Represent American Indian tribes within or adjacent to the area for which the committee is organized
* Area school officials or teachers
Each nominee is required to submit a form AD-755 to the RAC Designated Federal Official (DFO) Brian Harris, brian.d.harris@usda.gov, 500 N. Mission Street, McCall, Idaho 83638; 208-634-0784. The AD-755 can be downloaded at, http://www.fs.usda.gov/goto/SouthwestIdahoRAC APPLICATIONS ARE DUE July 19, 2019.
A list of nominees will be assembled and the Forest Supervisors will forward a slate of nominees with recommendations for appointments through the Chief of the Forest Service to the Secretary of Agriculture. These recommendations consider the advice of Forest Supervisors, tribal officials and county officials, and the following criteria: qualifications to represent the specific interest outlined in the Act, geographic representation across the area potentially affected by RAC advice, gender, ethnic diversity, persons with a disability, community support, consensus-building ability, dedication to serving the community's interests, and active participation in current natural resource issues.
The Secretary's office performs a background check on nominees, based on information provided on the AD-755. After nominees are cleared through the background check, the Secretary reviews the nominations and makes the selection of members. Newly appointed members receive a letter from the Secretary and a certificate of appointment. The process of nominating, reviewing and selecting members may take a few months or more.
For more information on Title II – Special Projects on Federal lands and the Secure Rural School and Community Self-Determination Act visit:
Brian Harris
Public Affairs Officer
Payette National Forest
— — — — — — — — — —
Payette National Forest issues errata to final environmental impact statement and draft record of decision for the Lost Creek-Boulder Creek Landscape Restoration Project
McCall, Id., June 20, 2019 – The Payette National Forest is issuing an errata to the 2014 final environmental impact statement, and a new draft record of decision for the Lost Creek-Boulder Creek Landscape Restoration Project on the New Meadows Ranger District.
"We are happy to be moving forward with this important forest landscape scale restoration project," said Keith Lannom, Payette National Forest Supervisor. "Projects like this are returning our forested ecosystems to healthy and sustainable environments that resist the impacts of large wildfire, while providing for economic stability of our local communities."
The errata and draft record of decision are being issued following the 9th District Court of Appeals' ruling to vacate the original 2014 decision in a lawsuit brought by entities that opposed the project.
Subsequent to the court order, the Forest Service re-examined the 2014 final environmental impact statement and determined that the effects analysis and alternatives were sound, but additional clarification was warranted in the form of an errata to the final environmental impact statement. The errata addresses Forest Plan direction for long-term desired conditions for vegetation, and provides administrative clarifications to specific pages of the final environmental impact statement.
The selected alternative listed in the draft record of decision includes critical vegetation management, watershed restoration treatments for fish and wildlife habitat, road management, and recreation management activities. The issuance of a draft record of decision places the project at the 45-day objection period of the National Environmental Policy Act process.
Objections will be accepted only from those who have previously submitted specific written comments regarding the proposed project either during scoping or other designated opportunity for public comment in accordance with 36 CFR § 218.5(a). Issues raised in objections must be based on previously submitted timely, specific, written comments regarding the proposed project unless based on new information arising after previous designated opportunities.
Written objections, including any attachments, must be submitted within 45 days following June 20, 2019 which is the publication date of the legal notice in the Idaho Statesman, the newspaper of record. It is the responsibility of objectors to ensure their objection is received in a timely manner (36 CFR § 218.9). The publication date in the Idaho Statesman, is the exclusive means for calculating the time to file an objection to this project. Those wishing to object to this proposed project should not rely upon dates or timeframe information provided by any other source.
The Objection Reviewing Officer is the Intermountain Regional Forester. Submit objections through the project website using the link in the right corner to "comment/object to project" or send to Objection Reviewing Officer, Intermountain Region USFS, 324 25th Street, Ogden, Utah 84401; or fax to 801-625-5277; or by email to: objections-intermtn-regional-office@fs.fed.us.
The project files are posted on the Payette National Forest project web site at: https://www.fs.usda.gov/project/?project=33830. For additional information, please contact Erin Phelps, New Meadows District Ranger at 208-347-0301.
Brian Harris
Public Affairs Officer
Payette National Forest
— — — — — — — — — —
Public Comments Sought on the Draft Environmental Impact Statement on the Proposed Huckleberry Landscape Restoration Project – Public Meeting July 9, 2019
Council, ID., June 20, 2019 – The Council Ranger District, Payette National Forest, is seeking public comment on the Draft Environmental Impact Statement (DEIS) for the Huckleberry Landscape Restoration Project.
The Huckleberry Landscape Restoration Project is within the Forest's 800,000 acre Weiser-Little Salmon Headwaters Project area and part of the Collaborative Forest Landscape Restoration Program (CFLRP). The Proposed Action was developed in response to Agency direction and policy, input from interested members of the public, and from recommendations received in comments provided by a local collaborative, the Payette Forest Coalition (PFC).
The Project area is located 15 miles west of New Meadows, Idaho on the Payette National Forest, Council Ranger District, in Adams County. It encompasses approximately 67,000 acres within the Brownlee Reservoir Subbasin, including the Indian, Lick, and Bear Creek subwatersheds near the communities of Bear and Cuprum, Idaho. Proposed restoration activities include timber harvest, biomass harvest, road reconstruction, road realignment, temporary road construction, road storage, road decommissioning, culvert removal, culvert replacement, thinning of sub-merchantable trees, prescribed fire, and other actions.
Specific vegetation treatments are proposed to enhance northern Idaho Ground squirrel habitat, a threatened species as listed by the Endangered Species Act, as well as species dependent on dry coniferous forests (e.g., white-headed woodpecker), while maintaining habitat for other Forest sensitive and ESA-listed species. Proposed recreation improvements include developed and dispersed recreation site improvements, motorized and non-motorized trail development and realignment, trailhead improvements, and the conversion of Smith Mountain Lookout to a public rental cabin.
How to Comment and Timeframe
The Environmental Protection Agency is expected to publish a Notice of Availability (NOA) for
the DEIS in the Federal Register on June 21, 2019. Comments concerning this action will be accepted for 45 days following that date. The publication date of the NOA in the Federal Register is the exclusive means for calculating timeframes for the comment period for the DEIS. Those wishing to comment should not rely upon dates or timeframe information provided by any other source. A legal notice of the opportunity to comment will be published in the Idaho Statesman, the legal newspaper of record, soon after the NOA is published.
The preferred method to submit comments is electronically via the project webpage at: https://www.fs.usda.gov/project/?project=50218.
Simply click on "Comment/Object on Project" under the "Get Connected" panel on the right side of the page and fill out the web form with your comments. Electronic comments may also be attached to the web form submitted in a format such as pdf, plain text (.txt), rich text format (.rtf), and Word (.doc or .docx).
Written comments will also be accepted and may be submitted to Keith Lannom, Forest Supervisor, Payette National Forest, 500 North Mission Street Building 2, McCall, Idaho 83638 or by fax to 208-634-0744. The office business hours for those submitting hand-delivered comments are 8:00 am to 4:30 pm Monday through Friday, excluding holidays.
Establishing Eligibility to Object
This project is subject to 36 CFR 218.7 parts (a) and (b). In order to be eligible to file an objection, specific written comments related to the project must be submitted during scoping, or during the comment period on the draft EIS in accordance with procedures in 40 CFR 1506.10, or during any other periods public comment is specifically requested on this EIS (36 CFR 218.5). Individual members of organizations must have submitted their own comments to meet the requirements of eligibility as an individual. Objections received on behalf of an organization are considered as those of the organization only. Comments must have an identifiable name attached or verification of identity will be required. A scanned signature may serve as verification on electronic comments. For objection eligibility each individual or representative from each entity submitting timely and specific written comments regarding the proposed project must either sign the comments or verify identity upon request. Names and addresses of those who comment and/or file objections will become part of the public record.
For additional information, please contact Mark Fox, Project Leader at the Council Ranger District, 208-253-0164, mark.fox@usda.gov.
Brian Harris
Public Affairs Officer
Payette National Forest
— — — — — — — — — —
BLM: Sparks from vehicles a top cause of Idaho wildfires
Sparks thrown from a trailer chain sparked a 350-acre wildfire along I-84 near Jerome on Monday, officials said.
KTVB June 18, 2019
Boise, Idaho — As wildfire season gets into full swing across the West, Idaho officials are warning about the dangers caused by vehicles passing through areas with dry brush.
Jared Jablonski, a fire information officer with the Bureau of Land Management's Boise District, told KTVB on Tuesday that sparks thrown from vehicles is one of the top causes of wildfires in the region.
"One of the things that you really need to pay attention to is how you hook your chains up to your trailers," Jablonski said. "When you hook your chains up, it's important to make sure the chains aren't dragging and it's important to make sure nothing [dragging] underneath your vehicle that could ignite sparks that could cause wildfires."
continued:
— — — — — — — — — —
Interior's BLM analyzes 11,000 miles of Fuel Breaks in the Great Basin to Combat Wildfires
Trump Administration works to proactively curb wildfires with strategically placed fuel breaks in Idaho, Oregon, Washington, California, Nevada, Utah
Date: June 21, 2019
Contact: Interior_Press@ios.doi.gov
Jennifer Jones, (208) 373-4016
Boise, Idaho – Today, the Department of the Interior's (DOI) Bureau of Land Management (BLM) released the Draft Programmatic Environmental Impact Statement (EIS) for Fuel Breaks in the Great Basin for a 45-day public comment period. This Draft Programmatic EIS analyzes a system of up to 11,000 miles of strategically placed fuel breaks to control wildfires within a 223 million-acre area that includes portions of Idaho, Oregon, Washington, California, Nevada and Utah.
"The Department of the Interior is dedicated to leveraging all of its assets to reduce wildfire risk and safeguard western communities," said Secretary of the Interior David Bernhardt. "We look forward to receiving feedback from the public on this effort which promises to make a real difference in reducing the wildfire threat."
"Wildfires devastate forests, rangeland and communities across Idaho and throughout the West, and without strategic planning they're likely to continue in the years ahead," said Casey Hammond, Principal Deputy Assistant Secretary for Land and Minerals Management. "With this initiative and others like it, we're working proactively to curb wildfires' destruction and make it safer and more effective for firefighters to protect people and property."
Large, unbroken swaths of grasses, brush and other vegetation have provided a continuous supply of fuel for the recent catastrophic rangeland wildfires that have burned across the Great Basin states. The concept behind fuel breaks is to break up or fragment continuous fuels by reducing vegetation in key locations. When a wildfire burns into a fuel break, the flame lengths decrease and its progress slows, making it safer and easier for firefighters to control. The fuel breaks would be strategically placed along roads and rights-of-way on BLM-administered lands.
Tools used to create fuel breaks could include brown strips – areas where all vegetation has been removed; green strips – areas where vegetation that is more flammable has been replaced with less flammable vegetation; and mowing or targeted grazing depending on the locations and vegetation. BLM developed four alternatives, including the No Action Alternative, based on comments received during the initial scoping period.
The proposed treatments are part of a larger national wildfire reduction strategy guided by President Trump's Executive Order 13855 – Promoting Active Management of America's Forests, Rangelands, and Other Federal Lands to Improve Conditions and Reduce Wildfire Risk, as well as Secretary's Order 3372 – Reducing Wildfire Risks on Department of the Interior Land through Active Management. The two orders direct DOI and Department of Agriculture agencies to implement policies to improve forest and rangeland management practices by reducing hazardous fuel loads, mitigating fire risk and ensuring the safety and stability of local communities through active management on forests and rangelands.
The preferred alternative identified in the Draft Programmatic EIS would create up to 11,000 miles of new fuel breaks within a 223 million-acre area that includes portions of Idaho, Oregon, Washington, California, Nevada and Utah. Fuel breaks would be reseeded, using both native and non-native plant species throughout the project area.
"Fuel breaks have proven to be very effective in slowing rangeland wildfires, making them easier and safer for wildland firefighters to control," said John Ruhs, State Director for BLM Idaho, which is hosting the Great Basin Fuel Breaks EIS Team. "We believe that creating a system of fuel breaks will help us enhance and improve our working landscapes."
The BLM is seeking public input to ensure that all aspects of developing a system of fuel breaks are analyzed. The BLM will accept written comments on the Draft Programmatic EIS and will hold a series of public meetings to gather public comment.
Public meetings will be held from 5-7 p.m. at the following locations:
California
* July 10: BLM Eagle Lake Field Office, 2550 Riverside Dr., Susanville, CA 96130
Idaho
* July 9: Red Lion Boise Hotel, 1800 W Fairview Ave., Boise, ID 83702
* July 16: BLM Twin Falls District Office, 2878 Addison Ave., Twin Falls, ID 83301
* July 17: Idaho Falls (location TBD; contact Idaho Falls District Office at 208-524-7500)
Nevada
* July 9: Reno (location TBD, contact BLM Nevada State Office at 775-861-6400)
* July 16: Red Lion Inn (High Desert Inn), 3015 Idaho St., Elko, NV 89801
* July 17: Bristlecone Convention Center, 150 Sixth Street Ely, NV 89301
Oregon
* July 8: Harney County Community Center, 478 N Broadway Ave., Burns, OR 97720
* July 11: BLM Lakeview District Office, 1301 South G Street, Lakeview, OR 97630
Utah
* July 18: Hampton Inn & Suites, 307 North Admiral Byrd Road, Salt Lake City, UT 84116
* July 18: Heritage Center Festival Hall, 105 N. 100 E. Cedar City, UT 84720
Washington
* July 10: Spokane (location TBD, contact Spokane District Office at 509-536-1200)
An electronic copy of the Draft Programmatic EIS and associated documents is available on the BLM Land Use Planning and NEPA register at https://go.usa.gov/xnQcG. For comments to be considered, they must be received by the BLM no later than midnight MST on August 5, 2019.
Prior to including your phone number, email address, or other personal identifying information in your written comment, you should be aware that your entire comment, including your personal identifying information, may be made publicly available at any time. While you can request we withhold your personal identifying information from public review, we cannot guarantee that we will be able to do so.
Background on DOI's Wildland Fire Prevention Efforts
In 2018, the Department of the Interior (DOI) worked closely with partners on 2,500 treatment projects to remove excess burnable vegetation on more than 1.2 million acres of DOI- and tribally-managed lands. Another 170,000 acres were managed for resource purposes. These efforts helped to reduce wildfire risk in some of the most fire-prone areas of the country.
The DOI continues to be the leader in the research, development, and practical deployment of Unmanned Aerial Systems (UAS), or drones, on wildland fire management operations. With the largest drone program outside of the Department of Defense, the DOI uses drones to detect hotspots around fires, improve mapping, and monitor fire operations for improved safety. In 2018, the DOI conducted 1,552 drone missions on 200 individual wildfires, doubling last year's total.
In 2019, the DOI plans to deploy nearly 4,500 firefighting personnel, 500 tribal firefighters, 151 smokejumpers, 18 interagency hotshot crews and 4 Tribal hotshot crews. Firefighters will have over 600 pieces of specialized equipment available for use, including engines, water tenders, bulldozers, and other equipment. Aviation assets play a critical role in efforts to manage wildfires, and the DOI will have access to 23 single engine air tankers, 6 water scoopers, 41 Type 1, 2 and 3 helicopters, and a number of other aviation resources.
— — — — — — — — — —
The West's worst fires aren't burning in forests
Range fires get bigger every year, threatening sagebrush habitat and rural towns.
Nick Bowlin June 13, 2019 HCN

The burn scar from the Martin Fire in Nevada as seen in this aerial photo. The largest wildfire in the state's history, it decimated sagebrush habitat. Pierre Markuse/CC via Flickr
Between the town of Elko, Nevada, and the Idaho border stretches some of the most remote land in the Lower 48, rolling hills and arid basins as far as the eye can see. Last July, this section of the Owyhee Desert was scorched by a fierce, fast-moving blaze with 40-foot flames, the largest wildfire in state history. In the end, the Martin Fire burned 435,000 acres, including some of the West's finest sagebrush habitat. Now, the raw range wind whips up the bare earth into enormous black clouds that roil on the horizon.
Once rare, fires that large, hot and destructive are now common in the Great Basin, a 200,000-square-mile region of mountains and valleys that includes all of Nevada and much of Utah, as well as parts of California, Idaho and Oregon. But despite the rising fire risk, a general lack of attention is putting the rangeland in growing danger.
The fire problem "risks permanent loss" of the ecosystem, according to Jolie Pollet, a fire ecologist and the Bureau of Land Management's division chief for fire planning and fuels management. This is a genuine crisis, she said, and it demands greater urgency and attention than it is currently getting.
continued:
— — — — — — — — — —
BLM seeks public input on proposed recreation site near Perjue Canyon
Date: June 19, 2019
Contact: Mike Williamson mwilliamson@blm.gov 208-384-3393
Boise, Idaho – The Bureau of Land Management announced today it is accepting public comments on a proposed recreation site near Perjue Canyon, located about 22 miles south of Grand View along Mud Flat Road.
The purpose of the project is to explore development of a site with safe access that enhances recreational opportunities in the Little Jacks Creek Wilderness Area along Mud Flat Road. The existing parking area at Perjue Canyon does not provide adequate access for people with disabilities, can only accommodate two vehicles, and poses a safety risk due to limited visibility pulling in from and out onto the road. The BLM is considering a range of alternatives for addressing parking, vehicle access, interpretation and camping.
"We've been working with our partners for a while now on the need to improve access at Perjue Canyon, including the Resource Advisory Council, Owyhee County Commissioners and members of the Owyhee Initiative," said BLM Bruneau Field Manager Tanya Thrift. "We have several alternatives we're looking at and now invite the public to comment on these and any other issues they feel should be included in the analysis."
Detailed information on the issues and proposed alternatives can be found at https://go.usa.gov/xyq57 (case sensitive).
A 30-day public comment period will run from June 19 to July 18, 2019. Comments will be accepted through the following means:
* Email: blm_id_bruneauoffice@blm.gov
* Fax: 208-384-3326
* Surface mail: BLM Bruneau Field Office, 3948 Development Ave, Boise, ID 83705
The purpose of this public comment period is to obtain feedback on relevant issues that may influence the BLM's environmental analysis. Comments are most helpful if they provide specific actions, resources, or issues to be considered and analyzed.
Those who provide comments are advised that before including their personal identifying information (address, email, phone number) they should be aware that the entire comment – including their personal identifying information – may be made publicly available at any time. While those commenting can ask in their comments to withhold this information from public review, the BLM cannot guarantee that they will be able to do so.
For more information, contact the BLM Bruneau Field Office at 208-384-3300.
— — — — — — — — — —
Commissioners back alternatives for stalled travel plan
County seeks input on possible BLM trails
Mark Dee June 21, 2019 IME
The Blaine County commissioners were eager to find alternatives Tuesday to a stalled BLM travel management plan for access to about 137,000 acres of public land in the Wood River Valley, but they're looking for more information—and public input—before making a recommendation to the agency.
The board held a pair of hearings on June 18 to revisit work that was drafted based on public comments on the original travel management plan, which was halted in April by a directive of the Department of the Interior stopping development of all such projects nationwide, except those based on court order. The move casts doubt on the future of the comprehensive approach to governing use on BLM lands from Willow Creek in the west to the Little Wood River in the east, between U.S. Highway 20 in the south and the Sawtooth National Forest in the north.
continued:
————————
Critter News:
Pet Talk – Aural hematoma in dogs
By Dr. Karsten Fostvedt June 21, 2019 IME
Aural (ear) hematoma refers to a collection of blood that occurs between the skin and the cartilage in the pinna (the "flap") of the ear. This can happen in response to trauma, such as hitting the ear on something, from a bite wound, from a foreign object in the ear canal or from an ear infection, causing the dog to consistently shake his/her head and scratch his/her ear. What happens is that a blood vessel ruptures and causes blood to leak into the pinna; this leads to a swollen, and often hot to the touch, ear. The ear may also feel soft and filled with fluid when touched; a bit like a balloon. This condition is very uncomfortable for the dog and help by a veterinarian should be sought right away.
An aural hematoma is typically diagnosed solely by clinical appearance. To treat this condition, your veterinarian may suggest a few methods. The first is to put the dog under general anesthesia and insert a drain; this way, when the ear tries to fill back up, the fluid will drain out instead of accumulating. The second is a procedure called "tacking." This is also done under general anesthesia and consists of making several dime-size holes on the pinna and "tacking" the top and bottom layer of the ear together so blood is unable to accumulate. The third option is to do nothing. That would cause discomfort in the dog for a longer period of time and results in what is known as "cauliflower ear," in which the ear has a shriveled appearance. This is more noticeable in dogs whose ears stand up. You should consult with your veterinarian before deciding not to treat the hematoma as it could be large enough to occlude the ear canal, causing an ear infection or exacerbating one already present. Very commonly, the ear will feel thick due to the scarring that results from the surgical procedures.
The easiest way to prevent an aural hematoma in your dog is to prevent ear infections. After taking your dog swimming or giving him/her a bath, use an ear cleaner specific to dogs from your veterinarian that dries out the ear and prevents excess water sitting in the ear canal and causing infection. If you notice your dog shaking his/her head and scratching at the ears, make an appointment with your veterinarian to check for foreign bodies (such as cheatgrass or large pieces of wax) or to check for and treat infection.
source:
— — — — — — — — — —
Scientists take a peek behind those sad puppy dog eyes
By Jeremy Rehm Associated Press Monday, June 17th 2019
New York (AP) — What's behind those hard-to-resist puppy dog eyes?
New research suggests that over thousands of years of dog domestication, people preferred pups that could pull off that appealing, sad look. And that encouraged the development of the facial muscle that creates it.
Today, pooches use the muscle to raise their eyebrows and make the babylike expression. That muscle is virtually absent in their ancestors, the wolves.
continued:
— — — — — — — — — —
Ranchers: Call sheriff, not WDFW, about wolves, cougars
By Don Jenkins Capital Press Jun 20, 2019
A cattlemen's group is urging Eastern Washington residents to report predator problems to their county sheriff rather than the state Department of Fish and Wildlife, a sign of rancher distrust in the state's response to wolves and cougars.
The Stevens County Cattlemen's Association accuses Fish and Wildlife of downplaying the threat of predators. Involving the sheriff will hold state wildlife investigators accountable, the association's president, Scott Nielsen, said Wednesday.
"It matters who you notify," he said. "If the sheriff isn't there, WDFW gets to control the message."
continued:
— — — — — — — — — —
Wolf Education International
Newsletter June 17, 2019
Wolves in the West: Wolf management in Idaho
Gray wolves and the black side of the "Nature knows best" dogma
— — — — — — — — — —
The return of the wolf: Wild cubs born in the Netherlands
By Mike Corder – 6/20/19 AP
The Hague, Netherlands — Wolves are officially back in the Netherlands, two centuries after the animals were hunted to extinction in the country, after a pair produced a litter in the wild — news welcomed Thursday by conservationists.
The province of Gelderland posted a video online this week showing three young wolves in a forest clearing, though the province said in a statement there could be up to five pups. The province did not reveal the exact location of the footage, saying it does not want people to disturb the animals.
The return of wolves to this densely populated nation on the western edge of continental Europe follows a growth in numbers in neighboring Germany.
continued:
— — — — — — — — — —
Grizzly spotted first time in decade in north-central Idaho
Wildlife officials are urging black bear hunters to be aware of the protected grizzly bear.
Associated Press June 20, 2019
Kelly Creek, Idaho (AP) — Wildlife officials are urging black bear hunters to choose their targets with care after a protected grizzly bear was spotted in north-central Idaho for the first time in a decade.
A hunting guide restocking a black bear baiting site encountered the 3-year-old male grizzly in the lower Kelly Creek area of the Nez Perce-Clearwater National Forests earlier this month.
continued:
— — — — — — — — — —
Governor's salmon work group starts work June 28
Jun 20, 2019 By Katie Kloppenburg KIVI TV
Boise, Idaho — The first meeting of Governor Brad Little's Salmon Workgroup will be held on June 28 from 8 a.m. to 3 p.m. in the Idaho Room at the Idaho State Museum. The meeting is open to the public and Governor Little will address the group at 8:30 a.m.
Governor Little directed his Office of Species Conservation (OSC) in April to assemble the workgroup dedicated to addressing salmon issues. The workgroup is bringing together diverse stakeholders to develop a unified policy recommendation to help Governor Little shape Idaho policy on salmon recovery.
continued:
— — — — — — — — — —
Hundreds of hummingbirds feed in Garden Valley
KTVB June 20, 2019 (Video May 30th)
Boise, Idaho — Some people say one of the best things about the summer season is when the hummingbirds come out and eat.
KTVB received incredible video showing hundreds of hummingbirds taking up residence on a porch in Garden Valley.
Logan and Lori C. sent us this YouTube video showing the birds feeding on their porch.
Logan and Lori tell us they go through 20 pounds of sugar a week and fill five feeders twice a day. They say it is the most hummingbirds they've ever had.
source:
— — — — — — — — — —
Mosquitoes with West Nile found in trap near Parma
by CBS 2 News Staff Tuesday, June 18th 2019
Parma, Idaho (CBS 2) — Mosquitoes carrying West Nile Virus have been found in a trap southwest of Parma.
The Canyon County Mosquito Abatement District says mosquitoes were collected in a trap June 14 off Highway 18 near the Oregon stateline and it showed a "very high West Nile reading."
The district says the positive reading is early for the season and that a warm and dry summer may trigger more West Nile activity.
Fogging will take place Tuesday and Wednesday night.
source:
—————————-
Fish & Game News:
No Chinook fishing this year on the South Fork Salmon, Upper Salmon rivers
By Roger Phillips, Public Information Supervisor
Thursday, June 20, 2019
After monitoring low Chinook counts over the Columbia and Snake River dams, Idaho Fish and Game fisheries managers have decided to not propose a summer fishing season on the South Fork of the Salmon River and due to a lack of harvestable hatchery fish.
Chinook fishing has been very limited this year with the only Chinook fishing currently open on the Middle Fork of the Clearwater River, and there was a fairly brief fishing season on the Lower Salmon and Little Salmon rivers.
While lack of a fishing season on the South Fork Salmon is disappointing for anglers, fishery managers expect enough to hatchery Chinook to return to the South Fork to meet broodstock needs at the nearby McCall Hatchery. Those fish will produce the next generation of smolts to be released, which will hopefully provide fishing opportunity in the future.
For additional background on the situation in the South Fork of the Salmon River, and information on how anglers can help shape future South Fork Salmon fishery recommendations, and share ideas for other aspects of fisheries management, check out this blog post from Regional Fisheries Manager Jordan Messner.
source:
— — — — — — — — — —
Campground Openers/Closures at Horsethief Reservoir
By Evin Oneale, Regional Communications Manager
Tuesday, June 18, 2019
After a month-long search, a new camp host is now in residence on Horsethief Reservoir's east side. For campers, this means the three east side campgrounds – Horsethief Creek, Trout Landing and Beaver Tail – are open for business just in time for the July 4th holiday.
There is no reservation system at Horsethief; all campsites are available on a first come, first served basis.
Across the reservoir, the popular Kings Point Campground will be closing on Wednesday, July 17 and will remain closed for the remainder of the camping season. Major renovation efforts will be ongoing throughout the summer and fall. Next spring, Horsethief campers will be able to enjoy these improvements including a paved campground loop and vehicle pads, paved parking areas at the Kings Point boat ramp, four ADA-compliant campsites, and paved walking paths throughout the entire campground.
continued:
— — — — — — — — — —
Black bear hunters urged to use increased caution after grizzly spotted in Unit 10 and 12
By Brian Pearson, Conservation Public Information Specialist
Wednesday, June 19, 2019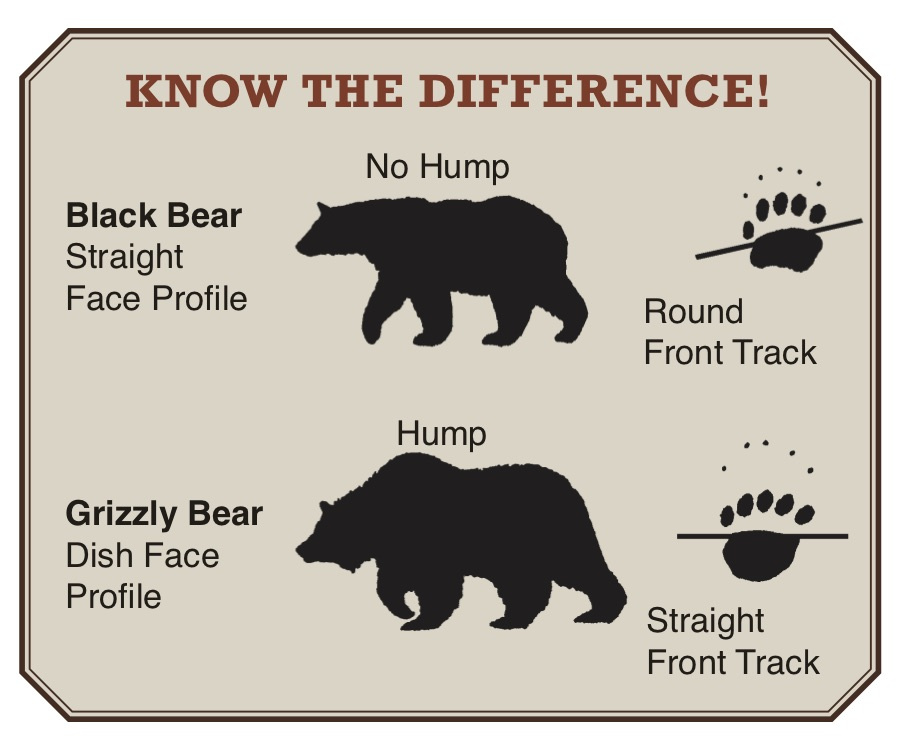 The USFWS radio-collared grizzly was last located in Kelly Creek drainage
Black bear hunters in north-central Idaho, specifically those who are hunting in Unit 10 and 12, are asked to use increased vigilance after a radio-collared grizzly bear was spotted by a hunter on Thursday, June 13.
The hunter reported the sighting to Fish and Game staff in the Clearwater Region, and the bear was identified as a 2-year-old grizzly that the U.S. Fish and Wildlife Service collared and released in western Montana in July 2018. The most recent data from the bear's radio collar places the bear in the Kelly Creek drainage, Fish and Wildlife Service officials confirmed. Kelly Creek is a tributary of the North Fork of the Clearwater River.
continued:
— — — — — — — — — —
More F&G News Releases
link:
———————————-
Fun Critter Stuff:
Camera captures bear's rub on tree at Russian nature reserve
June 18, 2019 The Associated Press
Moscow (AP) — An Asian black bear in Russia has been captured on video enjoying a backrub against a tree — before trying to eat a surveillance camera.
The video, posted recently by the Land of the Leopard national park in Russia's Far East, showed the bear approaching a tree, then rearing up to stand on its two hind legs to rub its back against the trunk.
The mammal then approached the camera and tried to bite it. The memory card inside the camera survived the contact.
source:
———————
Seasonal Humor:

———————-