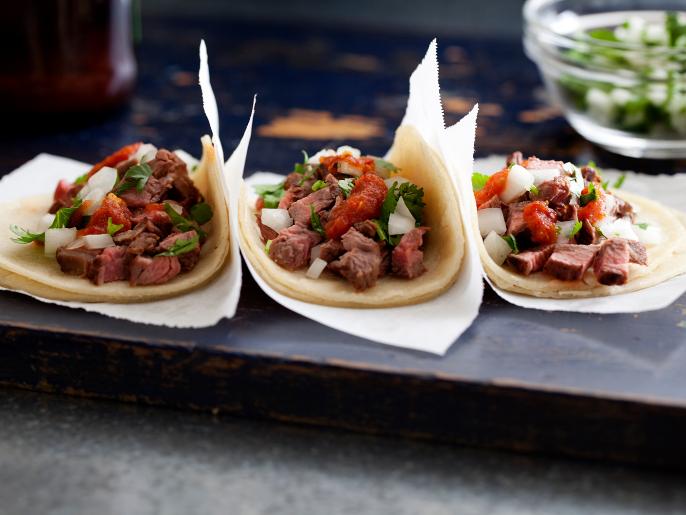 Food Network Magazine
Yield: 4 servings
Ingredients
1 flank steak, trimmed of excess fat
1 cup pickled jalapenos, including the carrots and onions that come in the jar
Salt and pepper
8 corn tortillas
1/4 cup white onion, coarsely chopped
1/4 cup cilantro leaves
2 tablespoons salsa de arbol
1 tablespoon canola oil, plus more, as needed
Directions
Cover flank steak on one side with the pickled jalapenos, then turn over let sit at room temperature, covered for 1 hour.
Preheat the grill or broiler.
Season both sides of the steak with salt and pepper and place on a hot grill or under the broiler. Cook the steak for 5 to 6 minutes on each side (for medium rare), and then chop into 1/4-inch pieces.
Heat a small saute pan and add 1 tablespoon canola oil. Warm corn tortillas for 30 seconds on each side, adding more oil as necessary. Stack 2 tortillas together, place the meat in the center of the tortillas and top with the onion and cilantro. Drizzle a teaspoon of the salsa de arbol on top of each taco.
———————–