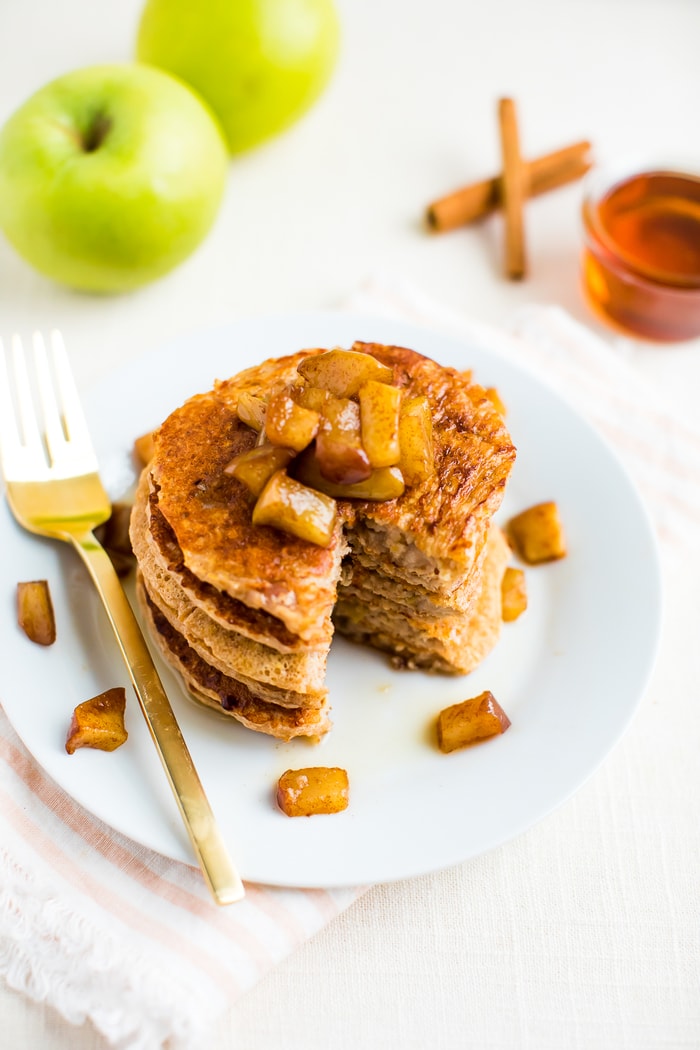 Healthy apple pancakes made with oats and cottage cheese. They taste decadent, but are packed with protein and fiber.
Yield: 8 pancakes
Ingredients
2/3 cup old fashioned oatmeal
1/2 cup egg whites
1/2 cup cottage cheese
1/4 cup applesauce
1 teaspoon baking powder
1 teaspoon cinnamon
1/2 cup diced apples
maple syrup, for topping
Cinnamon Apples
1/2 cup diced apples
2 teaspoons maple syrup
1/4 teaspoon cinnamon
Instructions
Add oats, egg whites, cottage cheese, applesauce, baking powder and cinnamon into a blender and process until the batter is relatively smooth with a thick consistency. Stir in diced apples.
Heat pan or griddle to low-medium heat and spray with non-stick spray.
Once hot, scoop out about a quarter cup of batter at a time and pour onto pan. You should be able to make about 8 small pancakes.
Cook until little bubbles form and the edges of the pancakes are solid enough to put a spatula underneath. Flip the pancakes and cook for one to two additional minutes.
While pancakes are cooking, prep cinnamon apples by adding diced apples, maple syrup and cinnamon in a microwave safe bowl. Stir to combine and microwave for 30-60 seconds or until apples are soft and look similar to baked apples.
For serving, place four pancakes on each plate, top with warm cinnamon apples and drizzle with maple syrup and/or nut butter.
– Eating Bird Food
————————