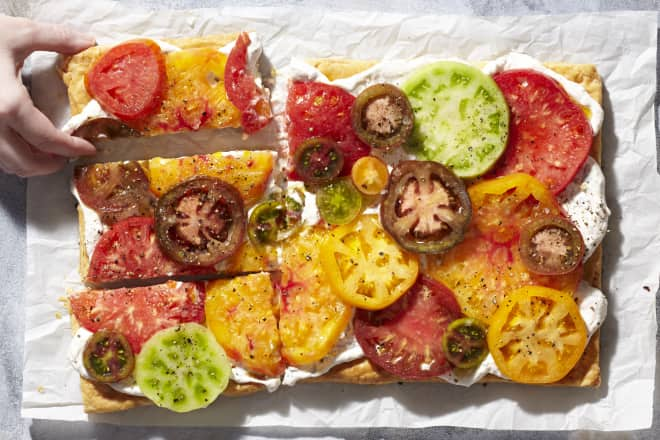 Ingredients
2 large heirloom or beefsteak tomatoes (about 2 1/4 to 2 1/2 pounds total)
1 teaspoon kosher salt
Cooking spray
1 sheet frozen puff pastry (about 12 ounces), thawed according to the package directions and refrigerated
1/2 cup cream cheese (4 ounces)
2 cloves garlic, peeled and grated
Leaves of 4 sprigs fresh oregano or marjoram, minced
Leaves of 4 sprigs fresh thyme, minced
1/2 teaspoon coarsely ground black pepper
1/4 teaspoon ground cinnamon (optional)
3/4 cup heavy cream or plain yogurt if you like it tart
1/2 cup crumbled feta cheese, drained
1 tablespoon extra-virgin olive oil, preferably Greek
Instructions
Line a large platter or two with 6 or 7 paper towels each. Slice the tomatoes into 1/2-inch-thick slices, place them on the paper towels, and sprinkle with the salt. Set aside.
Meanwhile, arrange a rack in the middle of the oven and heat to 425F. Line 1 rimmed baking sheet with parchment paper or spray with cooking spray and set aside. Spray the underside of a second rimmed baking sheet with cooking spray and set aside, upside down.
While the tomatoes are draining, place the chilled puff pastry on the first baking sheet (lined on the inside with parchment or sprayed on the inside) and unfold it gently. Make sure to work quickly so the pastry stays cold. If at any time the dough feels soft, place in the freezer for 2 to 3 minutes until chilled again and firm. Thoroughly poke the dough evenly with the tip of a sharp small knife, about 48 times.
Completely cover the puff pastry with a sheet of parchment paper. Place the second prepared baking sheet (sprayed on the underside) on top of the parchment paper, spray-side down. Bake until the pastry turns a pale brown on the edges, 10 to 12 minutes.
Remove the top baking sheet. Bake until golden-brown and crisp on top, being careful not to overbake, 3 to 5 minutes more. Set the pastry aside to cool while you make the feta spread.
Place the cream cheese, garlic, oregano, thyme, pepper, and cinnamon, if using, in a medium bowl. Using a handheld mixer, mix on medium speed until combined. Add the cream and mix until fluffy, about 2 minutes. Add the feta and mix until creamy, 2 to 3 minutes. Spread this mixture evenly on the tart crust.
Gently pat the tomatoes well with dry paper towels. Top the cheese mixture with the tomatoes salted-side down, arranging them in a single layer. The pastry will deflate somewhat. Drizzle over oil. Cut into pieces and serve immediately. This tart is best eaten the same day it is made.
Recipe Notes
Puff pastry: I am a believer in using butter-based puff pastry unless you need another version to meet a dietary need or you have no other available. Although most of the butter-based brands are sold one sheet to a box, they come in various sizes. If you buy a brand with 2 small sheets to a box, line them up as close to each other as possible on the oiled baking sheet and cut them to make one 9×12-inch rectangle. (On the negative side, the tart will really be two pieces and will not fuse together when baking. On the positive side, this will make it easy to serve without making too many cuts or breaking the pretty dough.)
Cheese spread: This mixture can be made up to 3 days in advance and refrigerated in a covered container.
—————————-