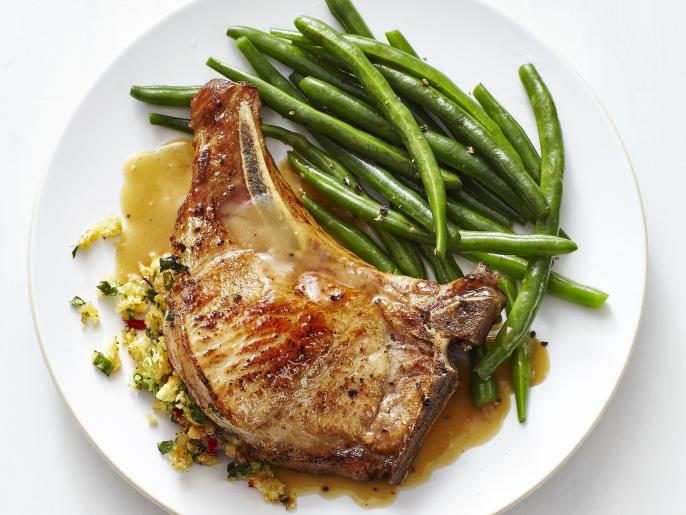 Yield: 4 servings
Food Network Magazine
Ingredients
2 tablespoons roughly chopped fresh parsley
2 scallions, thinly sliced
1 jalapeno pepper, seeded and finely chopped
1 heaping cup crumbled cornbread
1 large egg, lightly beaten
Kosher salt and freshly ground pepper
4 bone-in pork chops (1 inch thick; about 10 ounces each)
2 tablespoons vegetable oil
1 1/4 pounds green beans, trimmed
3 tablespoons unsalted butter
1 tablespoon all-purpose flour
3/4 cup low-sodium chicken broth
Directions
Preheat the oven to 400 degrees F. Combine the parsley, scallions, jalapeno, cornbread, egg, 1/2 teaspoon salt and a few grinds of pepper in a bowl. Cut a deep 2-inch-wide pocket into the side of each pork chop. Stuff the cornbread mixture into the pockets.
Heat the vegetable oil in a large skillet over medium-high heat. Season the pork with salt and pepper. Add to the skillet in batches and cook until golden brown, about 2 minutes per side. Transfer to a rimmed baking sheet; reserve the skillet. Bake until cooked through, 8 to 10 minutes.
Meanwhile, bring a medium pot of salted water to a boil; add the green beans and cook until crisp-tender, 3 minutes. Drain; return to the pot. Add 2 tablespoons butter. Season with salt and pepper; toss.
Remove the pork from the baking sheet and pour the juices on the baking sheet into the skillet. Sprinkle the flour over the juices; cook over medium heat, whisking, 1 minute. Whisk in the broth, scraping up any browned bits, until smooth and thickened, 2 to 3 minutes. Remove from the heat; whisk in the remaining 1 tablespoon butter and 3/4 teaspoon pepper and drizzle over the pork chops. Serve with the green beans.
——————–