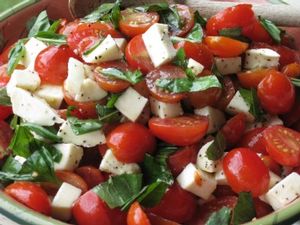 Ingredients
6 cups 1″ vine-ripened tomatoes
2 cups 1/2″ diced fresh mozzarella cheese
3 cups 1/2″ diced and peeled cucumber
1/2 cup torn basil
1/2 cup balsamic vinegar
1 cup extra virgin olive oil
1 tsp. kosher salt
1/4 tsp. crushed red pepper
Directions
Place tomatoes, cucumbers and mozzarella into a large mixing bowl or large salad bowl.
Season with salt and crushed red pepper.
Toss gently to combine.
Slowly whisk the olive oil into the balsamic vinegar in a separate bowl, creating a vinaigrette. Pour the vinaigrette over the tomato mixture and toss gently to combine.
Just before serving, add the torn basil and toss with a light hands.
——————————————–