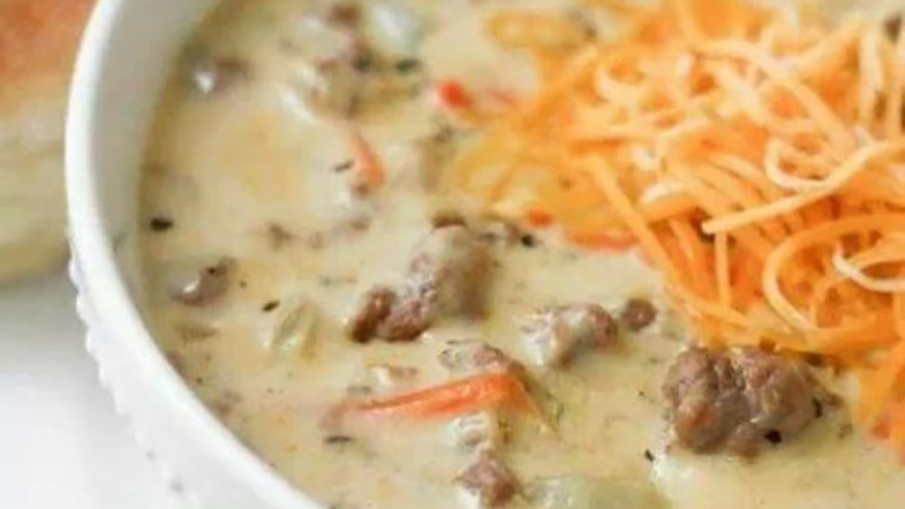 This Venison Cheeseburger Soup Recipe is delicious! It's easy to make and a guaranteed belly warmer.
By Raschell Rule
Serves: 4
Prep time: 10 minutes
Cook time: 35 minutes
Ingredients
1 cup diced potatoes, peeled
2 pounds ground venison
1/2 cup finely chopped green bell pepper
1/2 cup jalapeño peppers, finely chopped (wear gloves)
1 tablespoon homemade Italian seasoning
1 teaspoon freshly ground black pepper
1 1/2 pounds white American cheese, sliced
1/2 cup canola oil
1 cup finely chopped onion
1/2 cup finely chopped red bell pepper
1 cup flour
1 teaspoon kosher salt
1 1/2 quarts homemade beef broth
1/4 cup chopped scallions
Directions
In a large saucepan, add the potatoes and enough water to cover them by about 2 inches. Bring to a boil over high heat. Lower the heat to medium and simmer, uncovered, until fork-tender, about 15 minutes. Drain and return to the pan. Cover and keep warm.
In a large stockpot, heat the oil over medium-high heat. When hot, add the venison burger and cook, breaking up the meat slightly with a wooden spoon, until the burger begins to brown, 6 to 10 minutes.
Add the onion and the bell peppers and cook, stirring, for another minute or two. Add the jalapeños and then the flour, herb blend, salt, and black pepper. Cook, stirring until mixed well and thickened, 3 to 4 minutes.
Add the broth, lower the heat to medium, and cook, stirring, until heated through, taking care not to break the meat up too much. You may also use 1 pound of ground venison and 1 pound of ground beef if you wish.
Remove the pan from the heat, add the slices of cheese, one at a time, and stir gently until the cheese melts into the soup and the soup becomes creamy. Add the scallions and the potatoes and cook just until heated through.
Serve hot with garlic bread (or cheese bread).
—————