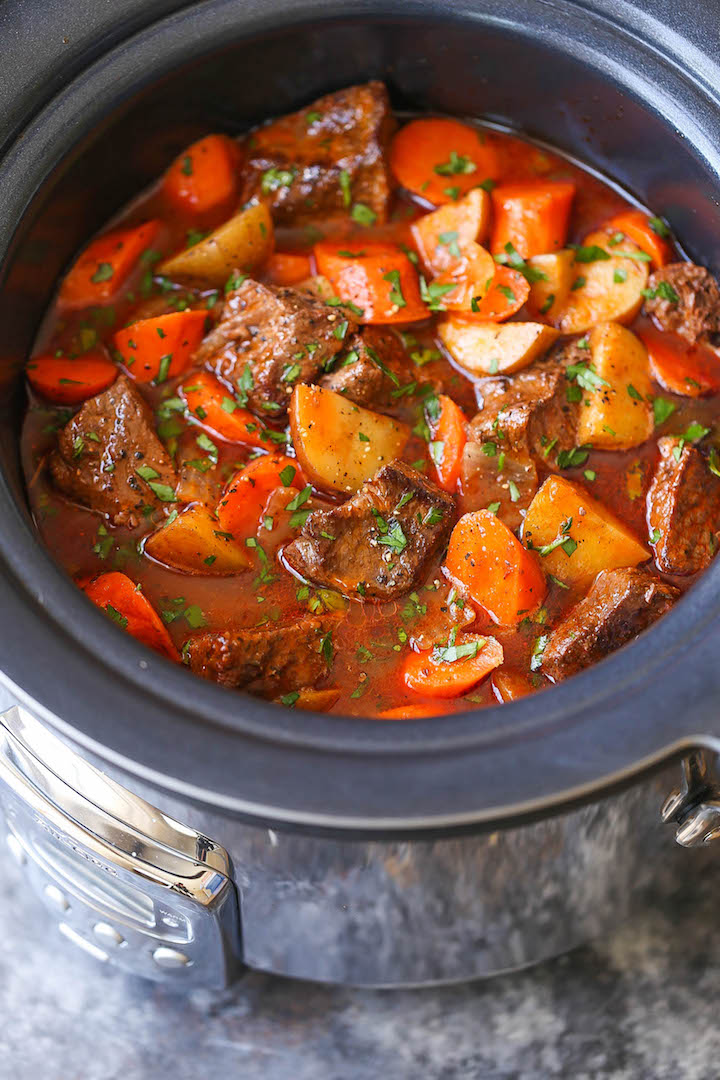 Serves 8
Ingredients
10 red new potatoes, skin left on, halved
1/2 onion, diced
3 large carrots, washed and cut in big pieces
4 large garlic cloves, minced
2 stalks celery, sliced thinly
3 bay leaves
3 pounds stewing beef, cubed
1 tablespoon salt
1 teaspoon ground black pepper
1/3 cup flour
4 tablespoons olive oil
1 cup mushrooms, halved
1-1/2 cups beef broth
1 bottle of beer
2 cans tomato sauce
1 large sprig of thyme
1 large sprig of rosemary
Directions
Place the potatoes, onion, carrot chunks, garlic and celery in the bottom of an 8-quart slow cooker. Top with bay leaves.
Season beef with salt and pepper in a bowl. Add flour and toss to coat.
Heat olive oil in a large skillet over medium-high heat. Saute beef in batches until the pieces are browned on all sides. If the pan starts to run dry, add a little more olive oil.
Add the cooked meat to the slow cooker and top with mushrooms.
In a bowl, mix the beef broth, beer and tomato sauce. Pour the mixture into the slow cooker.
Place the sprigs of thyme and rosemary on top and put the lid on the slow cooker.
Cook for 8 hours on low heat or 4 hours on high.
————————-