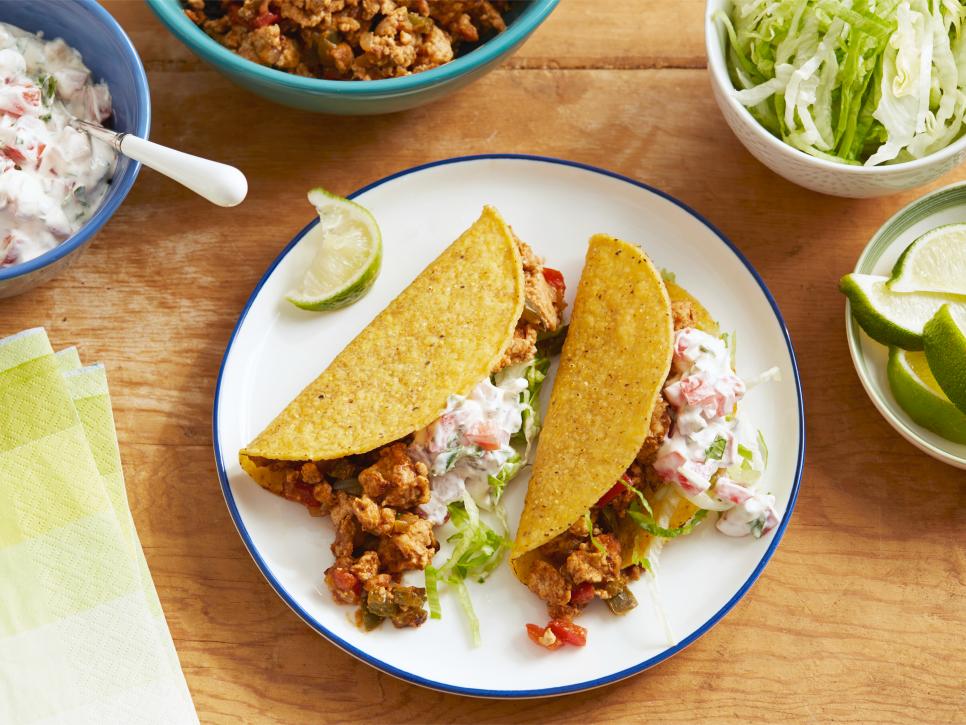 Food Network Magazine
Yield: 4 to 6 servings
Ingredients
2 tablespoons olive oil
1/2 cup diced red bell pepper
1/2 cup diced green bell pepper
1/2 cup chopped onion
Kosher salt and freshly ground black pepper
2 cloves garlic, grated on a rasp or minced
2 teaspoons ground cumin
1/2 teaspoon coriander
1/4 teaspoon cayenne pepper
1 tablespoon (1 packet) sazon seasoning
1 pound ground chicken
2 teaspoons flour
1 cup chicken stock
12 taco shells, kept warm in a 200 degree oven
Shredded lettuce, for serving
Creamy Salsa, for serving, recipe follows
Directions
In a large saute pan with straight sides over medium-high heat, heat the olive oil. Add the red and green bell pepper, onion and then season with salt and a few grinds of black pepper. Saute until the vegetables are tender then add the garlic, cumin, coriander, cayenne pepper, and sazon seasoning. Cook for a minute or so then add the ground chicken and cook, breaking up the chicken with a wooden spoon while stirring. Make sure to really break up the ground chicken on this step so there are no large clumps.
Once the chicken is cooked through, sprinkle the flour over the top and stir while cooking to allow the flour to blend into the chicken for a few minutes. Add the chicken stock then raise the heat to a simmer and cook until the stock thickens a bit, about 4 to 5 minutes.
Serve in warm taco shells topped with shredded lettuce and a dollop of Creamy Salsa.
Creamy Salsa
Yield: 1 1/2 cups
Ingredients
4 Roma tomatoes, seeded and chopped
1/2 cup chopped fresh cilantro leaves
1/4 cup finely chopped red onion
1 jalapeno, seeded and finely chopped
1 scallion, finely chopped
1 cup sour cream
1 tablespoon hot sauce (recommended: Frank's Red Hot)
1/2 teaspoon garlic powder
2 teaspoons fresh lime juice
Kosher salt and freshly ground black pepper
Directions
Combine the tomatoes, cilantro, red onion, jalapeno, scallion, sour cream hot sauce, garlic powder, and lime juice in a medium bowl. Stir to combine, then season with salt and pepper to taste, and refrigerate at least 1 hour before serving.
———————–